Initial coin offerings have turned public fundraising on its head. In 2017, 234 companies raised $3.7 billion through ICOs—a 3712% increase from the year before.
This boom is bittersweet. More people than ever are interested in investing, but launching an ICO now feels like trying to get someone's attention from across a crowded room.
That's why ICO marketing is more important than ever. Your marketing strategy should outline how you'll promote your ICO through free channels and advertising, as well as how your marketing materials will instill trust and inspiration among investors.
Here's how to create an ICO marketing strategy that helps you reach your fundraising goals.
ICO Marketing Channels
Before launching an ICO, think about how people are going to hear about this opportunity and what budget you have to promote it to the right audiences.
Thankfully, people who are interested in ICOs tend to hang out on specific websites and apps. This makes your job infinitely easier. Below are free and paid channels to consider for ICO marketing.
Free Promotion
Reddit
Reddit has tons of subreddits catering to blockchain and ICO news, although many of them tend to be quite small. IcoCrypto and EthTrader are some of the biggest communities.
Before launch, spend some time on the subreddit and see what posts tend to get the most upvotes and comments. Then, copy that style when promoting your ICO.
Keep in mind that overly promotional posts are generally unwelcome on Reddit. Try to find a unique angle or schedule an AMA instead of just linking to the website. Putting in the time to interact with a community will pay off in the long run.
Slack
Even though it's primarily a business communications tool, Slack is becoming a messaging platform of choice for communities.
Cryptocurrency is part of the trend. One popular group is CoinFund, which attracts users interested in blockchain technology. Many ICO investors frequent the Slack group, making it a great outreach platform. CoinFund even hosts Q&As with ICOs.
Telegram
There are tons of Telegram groups covering every aspect of cryptocurrency—making it a good platform for ICO marketing. To get started, check out ICO Report.
TokenMarket
Your ICO marketing strategy absolutely needs to include listing your ICO on TokenMarket's calendar.
Start preparing your application well before launching the ICO to ensure your website and legal assets are good to go. Keep in mind that new listings take up to two business weeks to go live, so submit early to avoid a slow launch.
Owned communities
Some companies create their own communities to encourage discussion and answer questions about the ICO.
For example, Civic created a dedicated Telegram room when it launched its ICO for discussions about its product. Telegram is popular among security-focused audiences, which provides a nice overlap with the blockchain community.
Many companies use Slack for the same reason. However, keep in mind that the platform's open communication style makes it easy for bad actors to flourish in large communities. BAT recently transitioned from Slack to rocket.chat for this reason.
Regardless of platform, owned communities give you a central place to connect with investors. This helps your legitimacy and keeps people in the loop.
Paid ICO Advertising
Ad networks
If you want to reach investors at scale without pouring time into building media plans, consider running ads on a cryptocurrency ad network. Through these, your ads show up on relevant websites without you needing to chase down the best placements.
There are a lot of these popping up nowadays, so be sure to avoid ones with inventory on low-quality and shady websites.
Cryptobar is one option for ICO marketing at scale. These native ads appear on dozens of premium crypto websites and only show up once users engage with a page.
On average, Cryptobar units return click-through rates above 1%. Plus, you can build and launch campaigns by yourself through the self-serve platform. This means you get more clicks for your dollar… or for your BTC.
Website-specific ads
If you want to run ICO advertising on a specific cryptocurrency website such as CoinDesk or CoinGecko, check out our network exclusively for crypto.
The platform lets you pick specific placements, upload creative, and launch campaigns in minutes.
Marketing Best Practices
Free and paid ICO marketing is only as effective as the content surrounding it.
Where you send people matters, so make sure your landing pages and website tell the story you want them to. Here are four best practices to keep in mind.
Demonstrate the potential
People rarely invest in things out of the kindness of their hearts—especially not for strangers on the internet.
So, your website needs to tell investors why right now is the best opportunity to support a change.
LEAP, an eSports smart contracts platform, does this masterfully on its ICO website.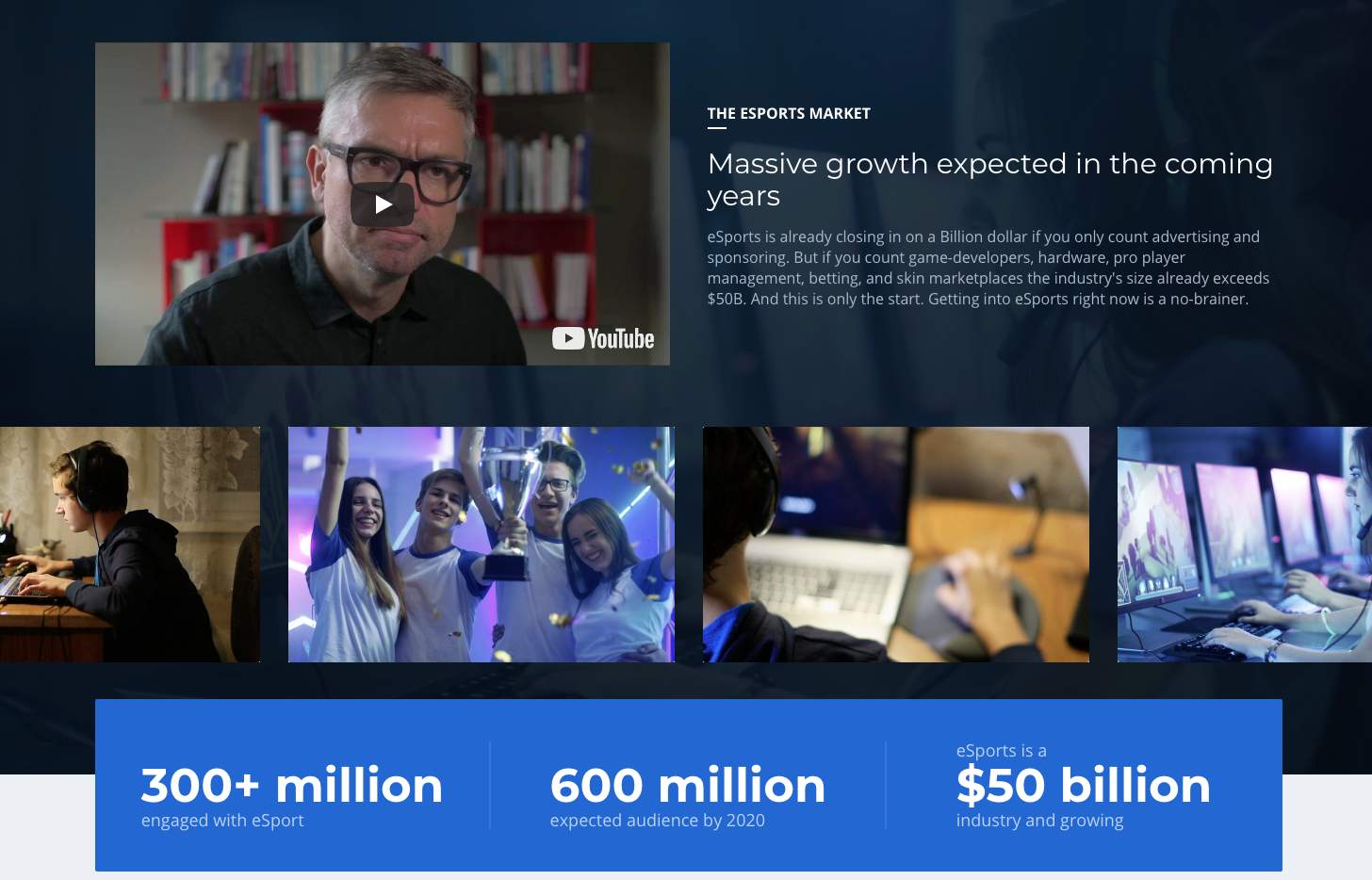 The company articulates the massive potential of the eSports market by explaining its current reach and where it's going. Investors would hate to miss out on a $50 billion opportunity.
Make your business case
A successful ICO marketing strategy grows from a solid business plan.
That's why the ICO whitepaper is your most important asset. It should explain what your company does, what its goals are, and how it plans on making them a reality. You might also consider a one-pager for quick sharing and a website FAQ for people who aren't quite convinced to download the PDFs.
Think of the one-pager and whitepaper as your first impression with investors. The content should be jargon-free and well written, and it's definitely worth hiring a designer to make the PDFs look professional.
If you're seeking inspiration, check out the whitepaper from Rocket ICO. The impactful color palette and generous whitespace make the company look modern and focused.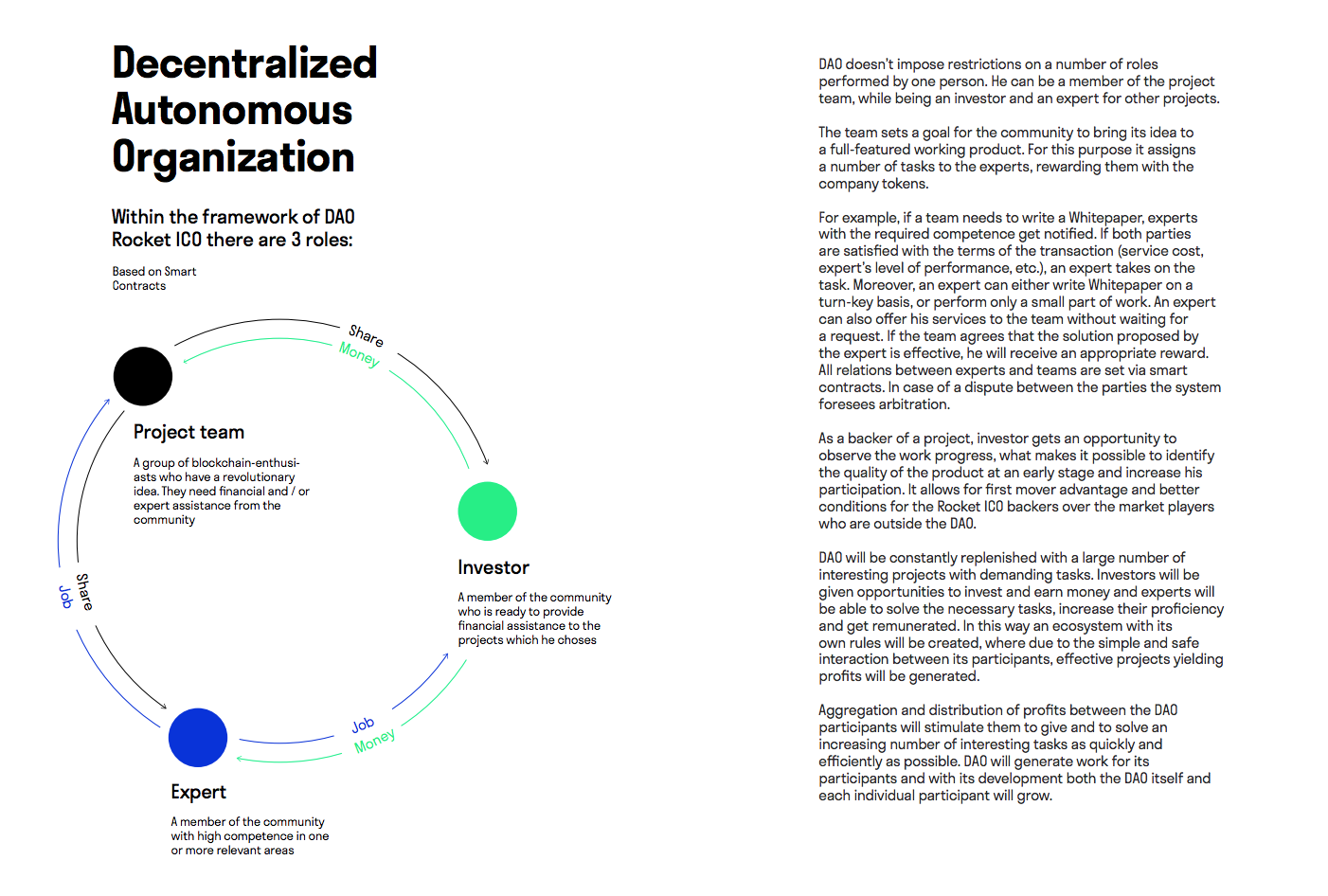 Keep it simple
What big problem does your company solve, and how will that impact people?
The answer to this question is your vision, and it should be displayed prominently on your website and hinted at in everything you do. The plainer the English, the better.
Monaize, an e-banking platform for freelancers and small business, took this to heart when it developed its ICO website and collateral. Its whitepaper does an excellent job of communicating the company vision in understandable terms.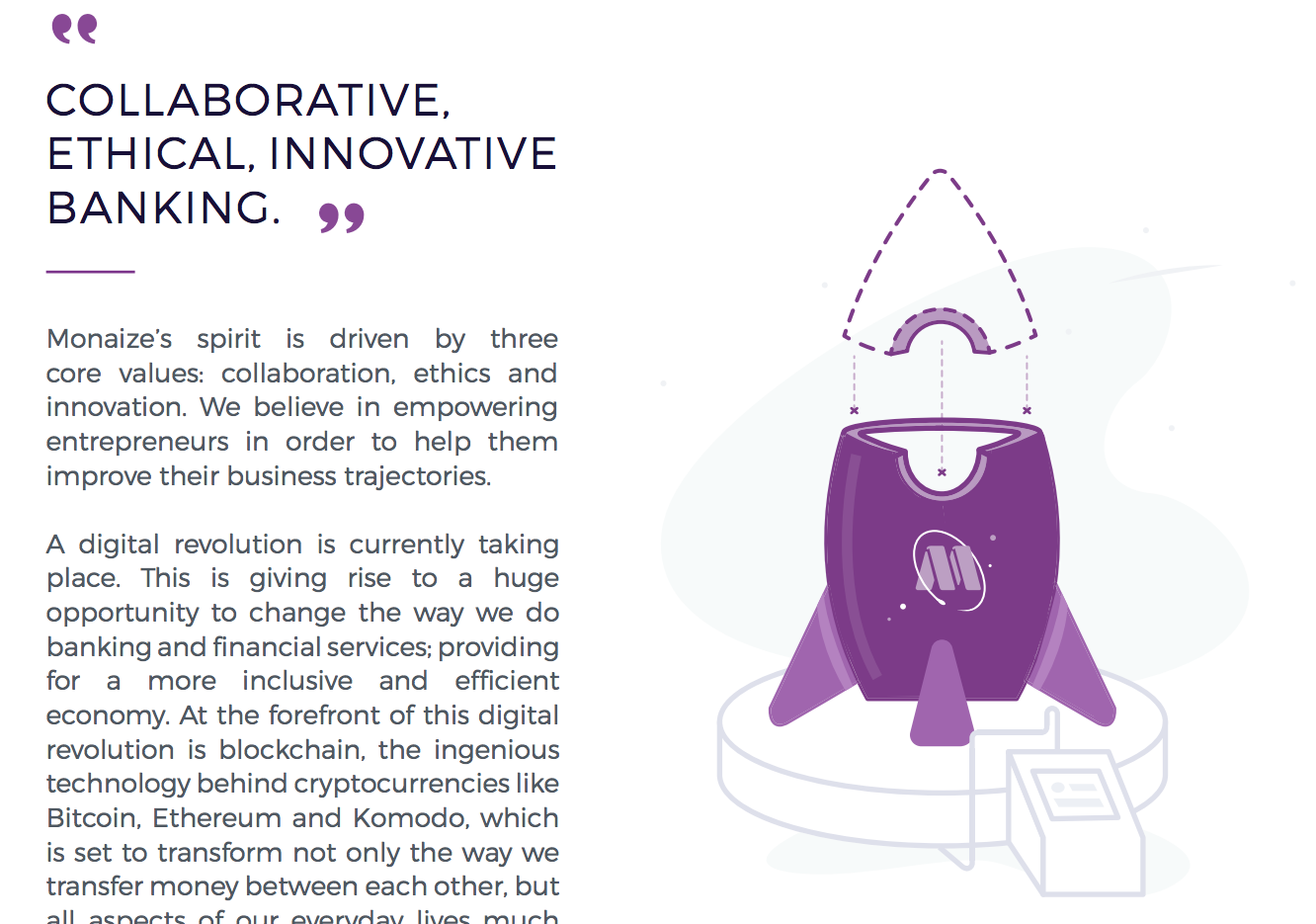 Don't just stop at your whitepaper. Take your mission and create useful content about it on Medium, Twitter, or guests blogs. This broadens your audience and connects people with your company on new levels.
Cement your legitimacy
The small percentage of scammers and shady companies launching ICOs discredits the many companies using the fundraising method for actual, innovative change.
When thinking of your ICO marketing strategy, you should consider how you can establish your company's legitimacy at each touchpoint. There are a few tactics you can use for this including:
Team headshots on the landing page with name and title information
Social account links for individual team members
A video with your founder and other team members
Photos and social account links for advisors and major investors
Current user and revenue numbers (if available)
All of these help transform your company from a faceless entity to a promising investment.
Invest in Marketing Your ICO
Your fundraising round can only be successful if your ICO marketing reaches the right people and creates interest in your company's vision.
Organic channels including Reddit, Telegram, and Slack can help you reach new audiences and create community around your ICO. Paid channels such as Cryptobar can take your reach to the next level.
Also consider what happens when someone gets to your website. Making your strategy, vision, and legitimacy apparent to visitors will go a long way in launching a successful ICO.