Relevance. It's as simple as that.
If your brand is relevant to an audience, they'll pay attention to it.
But what is a brand anyway? It's easy to think of brands as two-dimensional assets - a logo, colors and font. But branding goes much deeper than that. It can represent company values, culture and personality, and it's often the first impression a new customer gets about your company. So, if you're trying to grow, brand marketing might just be the missing piece you're looking for.
One way to market your brand is through publisher advertising. Advertising your brand via industry specific publishers is great for generating awareness amongst niche audiences, as well as strengthening your brand identity through relevant associations.
Here we'll look at three types of publisher advertising: what they are, why they work and how they can fit into your brand marketing strategy.
Podcasts: are you listening carefully?
How do you reach new audiences in a way that they'll remember? Podcasts are a great option.
The App Store currently has over 450,000 shows covering topics as general as the news, and as specific as UX design and cryptocurrency investments. If you're looking to connect with a niche audience, there's almost certainly a podcast for that.
As if that wasn't already great news, podcast subscriber engagement rates are also notably high, with 85% listening to most or all of an episode they start. So, not only are you targeting a specific audience, but you know that they're actually listening. Choose your placements carefully and you've struck gold for reach.
Of course, reach is only one part of brand awareness. Anyone (with the budget) can reach a large audience, but recall is where it really counts for brand marketing.
Host-read podcast advertisements allow the show to continue with a consistent voice and without an obvious change in tone. Most podcasters worth their salt will also add their own personal experience of the product, so it's often more like a word-of-mouth recommendation from friendly source the audience trusts. As a result, recall rates for podcast advertising are impressive. In fact, one study suggests that 80% of listeners could remember at least one of the brands mentioned in an episode. As an equation:
Same trusted voice + no jarring break = continued active listening
How to measure brand marketing on podcasts
At the core of most brand growth strategies will be a brand awareness KPI. If you're measuring sales or another metric like website visits, you'll also want to include a call-to-action in the advert. Typically this will involve directing the listeners to your brand's website so you can measure page visits.
This needs a little advanced planning, though, because you'll want to create specific landing pages with easy to read and memorable URLs - no podcaster wants to read out a load of UTM parameters! Return on advertising spend is likely to be important to you too, so giving away a specific offer code can be really helpful in calculating sales-based targets from offline campaigns like this.
Sponsored content: if you like that, you'll love this too!
Sponsored content is really great for targeting; for every customer segment, there's a website publisher catering to that sector. This is particularly helpful for B2B marketing, where it can be difficult to find specific industry professionals. For example, specialist websites like Dribbble or CSS-Tricks are an ideal platform to connect with designers and developers actively looking for help or inspiration. Sponsor content here, and your article will be served directly to an audience who actually wants to read it!
Typically, sponsored content takes the form of an editorial piece appearing alongside native content on the site, rather than looking like a more traditional advert on the side-bar or as a pop-up.
Depending on the site, sponsored pieces are often introduced with a note of thanks and sometimes brands are even further linked, such as the example below. The effect is a clear endorsement between a company the reader already likes and uses (CSS-Tricks), and the sponsor (Wufoo), which they are now at least aware of. This is effective for giving potential customers an immediate sense of the sponsor's brand identity, as well as implying that they offer a relevant product or service for them.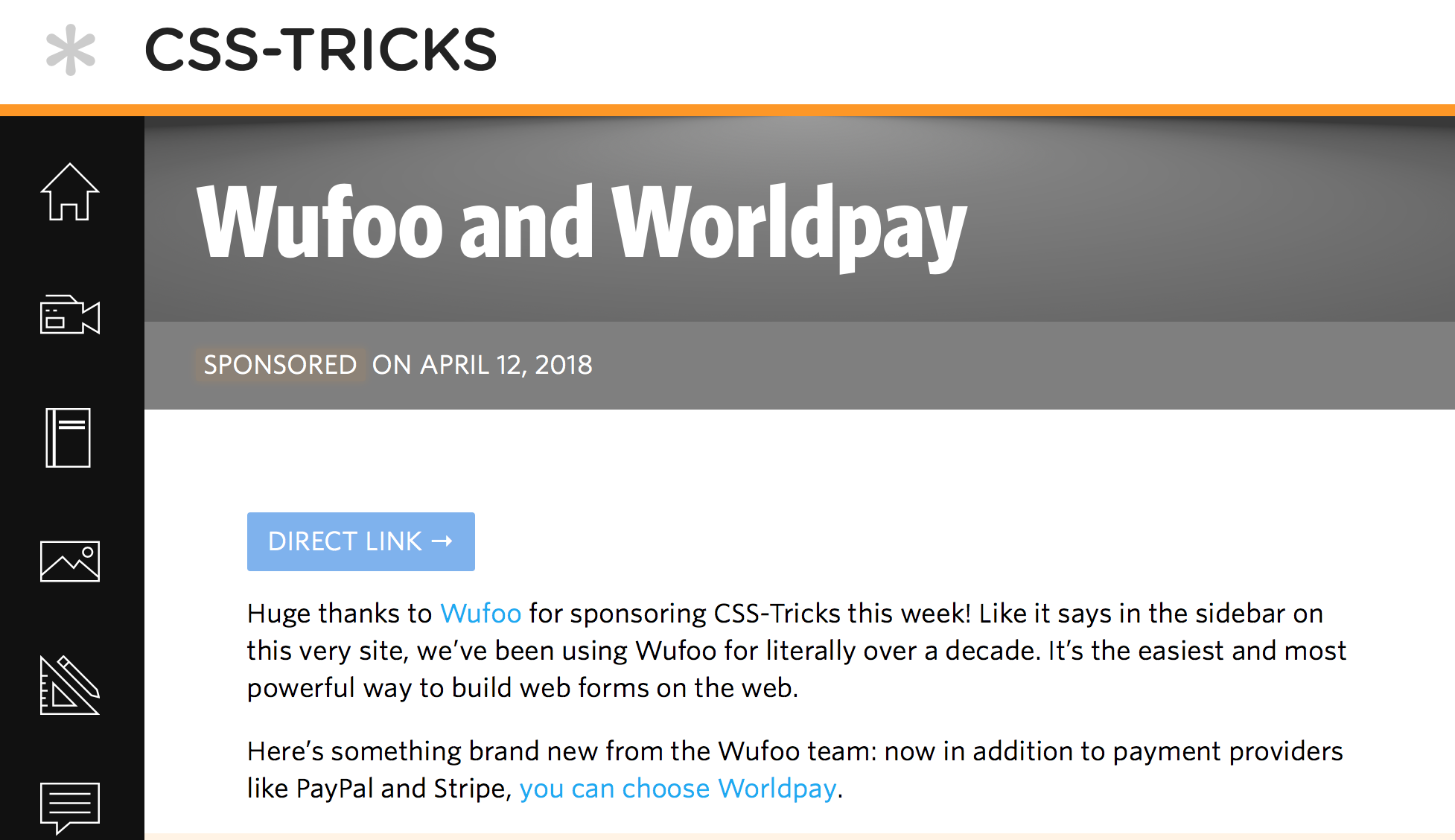 This all means that sponsored content is a great way to kick-start the demand generation funnel. Sponsorship deals sometimes also offer features like 'sticky stories' so your piece remains at the top of the page, maximising impressions and opportunities to start this process.
Brand marketing KPIs for sponsored content
The writing itself, as with other types of content marketing, is best used to focus on education of the pain points or problems your product solves. As for KPIs and measurement, ask the publisher for engagement-based metrics like time-on-page, unique visitors and click-through-rates, as these can help indicate whether the audience was interested in your brand.
You'll also want to track the effectiveness of your call-to-action, particularly lead generation KPIs. If you're using a service like Google Analytics, make sure you've correctly configured your destination and event-based goals to accurately track exactly how many sign-ups, downloads and enquiry form submissions came from that referral source.
Newsletter sponsorships: a self-selecting audience.
Running your own email newsletter can be a great way to stay in contact with your existing customers and leads, but how can you use them for growth with new customers who've never heard of you? Simple, you sponsor someone else's newsletter!
A sponsored newsletter will typically highlight your company and provide a link to one of your blog posts or a landing page, so readers can learn more. Publishers like Webdesigner Depot focus on delivering curated content, so sponsored messages - like this one from FullStory - are featured naturally amongst other articles of interest. It feels less like an advert and more like a helpful reading suggestion.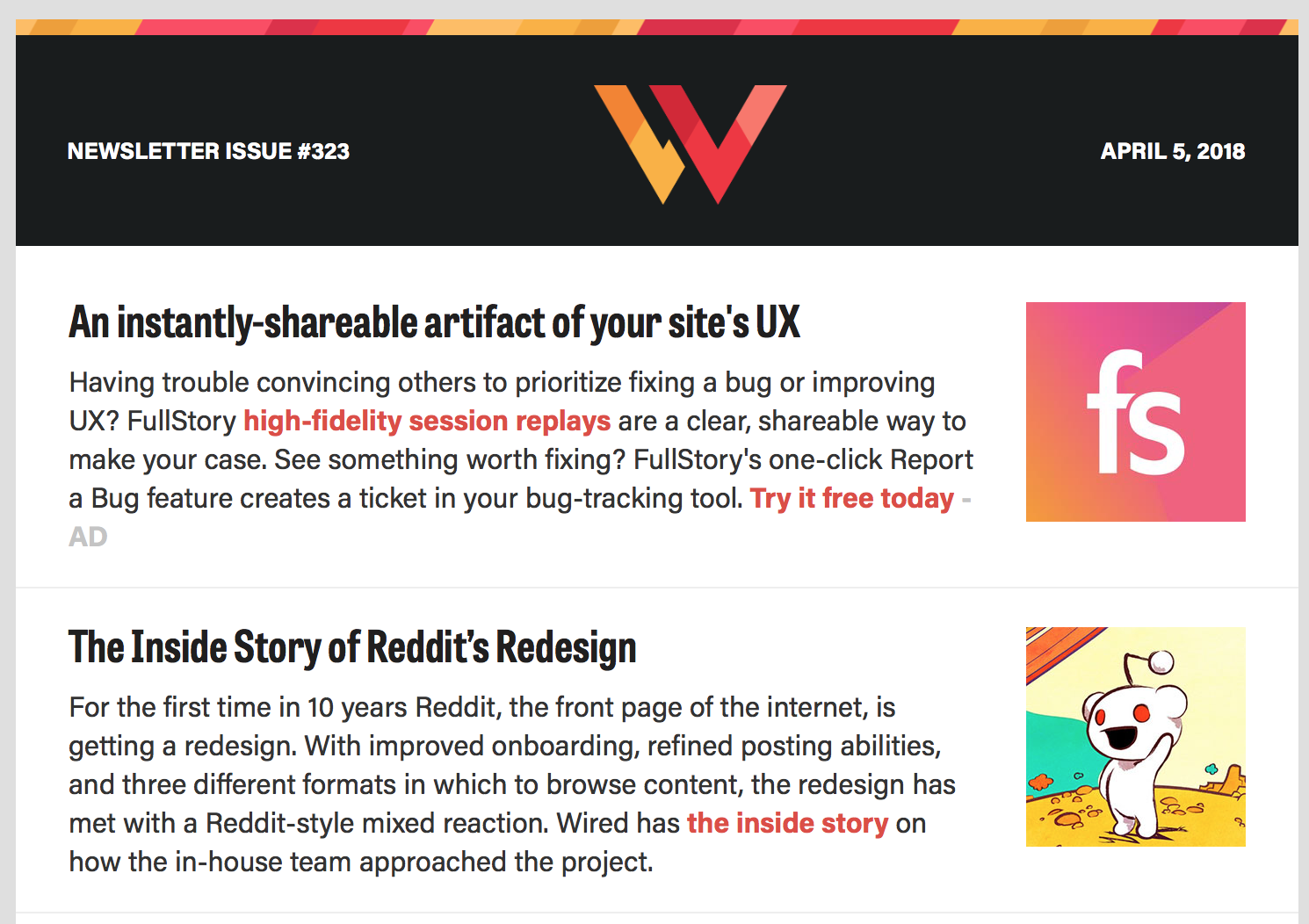 As long as you choose a good fit for your brand, opt-in newsletter subscribers have essentially self-selected as being your target audience and will likely be interested in what you have to say. Sponsoring a newsletter is therefore a great way at marketing your brand directly to potential customers; once it's in their inbox, they can read it whenever they want and start connecting with your brand wherever they are.
How to measure brand marketing through email advertising
Monitoring the impact of your email sponsorship on your brand measurement metrics is important. But, remember to tailor what you measure to the context. Unlike your own email newsletter where you're responsible for the subject line, and consequently open rates, this may not be as relevant for someone else's newsletter.
Instead, focus on factors you directly control, like the click-through-rate based on your own copy and imagery. For each newsletter you're included on, you'll also want to create a separate campaign name by adding tracking parameters to your URL, so you can easily split this traffic from other visitors which came to your website from an email medium.
Track and assess the impact of each sponsorship so you can continue to refine your approach and achieve the maximum benefits for your spend.
Bringing it all together
Podcasts, sponsored content, and newsletter sponsorships are great options to boost brand awareness and growth in target markets.