Our clients are seeing a tremendous amount of success with paid content syndication for lead generation. As a result, we thought we would shed some light on the benefits of content syndication and best practices you can implement before taking your campaigns live.
We've broken down the process of optimizing your content syndication campaigns into 3 steps:
Setting campaign goals and creating content that aligns with these goals
Optimizing your content to bring high-quality conversions
Writing the most engaging copy for your audience
Taking time to work through this three-step process before running a campaign will set you up for success by better aligning content with larger acquisition goals.
Let's dive in.
1. Take inventory of existing content and lead generation goals
Paid acquisition and content marketing aren't usually managed by the same person. There are exceptions - in one of our recent episodes of Re:Growth, we spoke to Ashley Kemper, Head of Acquisition Marketing over at Asana about how they're combining paid and organic marketing efforts for uniquely tremendous results. This isn't the norm however, and without proper team alignment, there can be disparities between what each person or team is doing and big-picture marketing goals.
Instead of waiting until you launch your content discovery campaigns to realize these differences, these steps can help align the two channels in advance:
Start by outlining your lead generation goals. These can be sign ups, subscribers, downloads, etc.
Find out how paid campaigns are driving growth for those goals. Make a list of the language, imagery, themes, pages, and other things that are performing best on the paid acquisition side. For example, if a paid social campaign focusing on a productivity use case leads to the most sign-ups, you should consider promoting content about that topic in your content discovery campaigns.
Make a list of content pieces that align with this research. You might have to update existing content or write new content based on what you've learned.
2. Make it easy for your audience to take action
If you want your content discovery campaign to drive lead generation, make it easy for your audience to take the next step. Calls to action should stand out, they shouldn't be huge asks, and they should be contextual.
A few tips:
If you want product sign-ups, make sure the content shows off your product.
Content discovery campaigns expand the reach of your content, but you can't assume visitors understand what your product does.
This can be a challenge if your goal is to drive sign-ups.
Showcasing your product contextually in your piece, using it in examples, and including images are just a few ways to overcome this.
Asana's blog post about welcoming employees does this well by providing specific examples of how to execute their recommendations within the Asana app.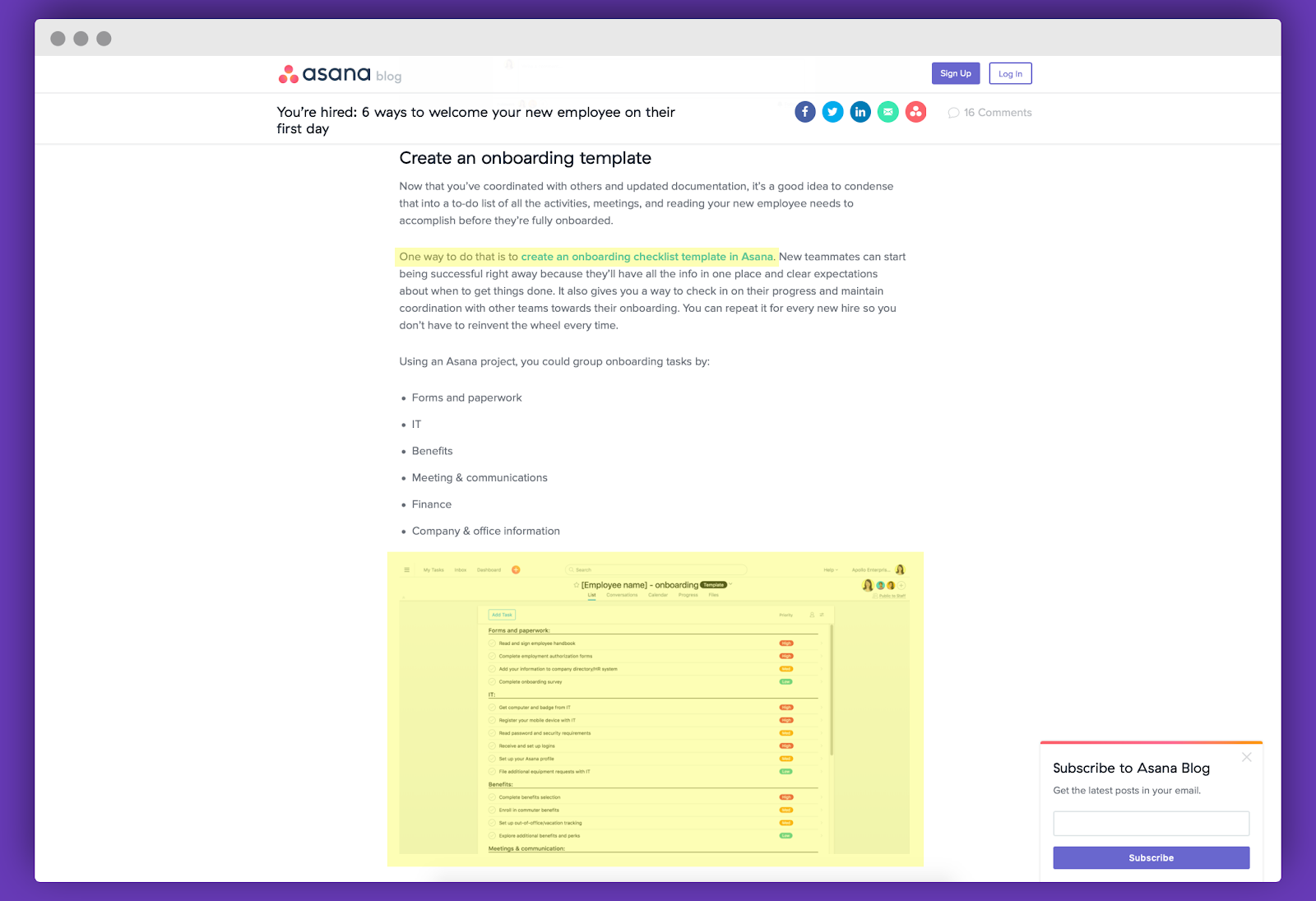 If you want downloads, make sure the gated content is exclusive and relevant.
The best performing gated content is highly relevant and exclusive.
If you're using content discovery campaigns to drive downloads, gated content should be relevant to the article topic that first piqued your audience's interest and exclusive enough that someone won't go elsewhere for that content.
Research and webinars are popular gated content types for a reason - they're often produced in house based on your own research and writing (exclusive) and can be paired with other non-gated content offerings (for example, blog posts) about something similar your audience is interested in (relevant).
See below how Shopify Plus' blog shows how they're using exclusive reports to drive lead generation goals.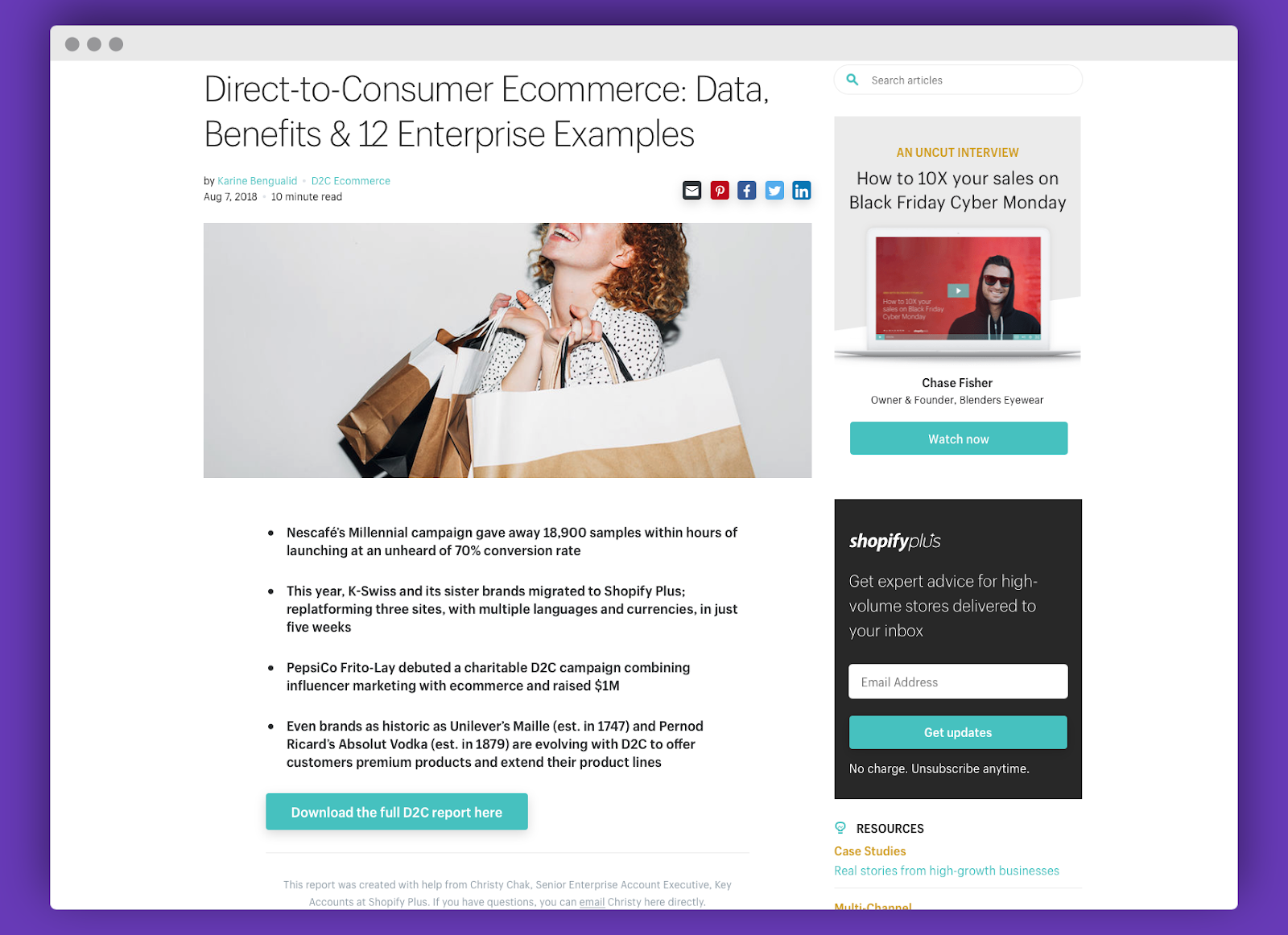 If your content isn't performing up to par, consider a smaller ask.
A newsletter subscription is easier than signing up for a webinar. A webinar is easier than starting a free trial. A free trial is easier than contacting sales.
There are factors holding people back from taking any action, and you can't assume every visitor is ready to commit to your product in the same way. Test out different CTAs and A/B test continuously.
This example from Drift has FIVE calls to action once you hit the end of an article, not including the related stories block. The asks range from moving on to another article (exclusive research), subscribing to email newsletters, and finally, starting a free trial. While the general consensus is that fewer CTAs can focus a reader and produce improved conversions, sometimes providing multiple options can help a reader that just isn't as ready as the others. Test what works for you.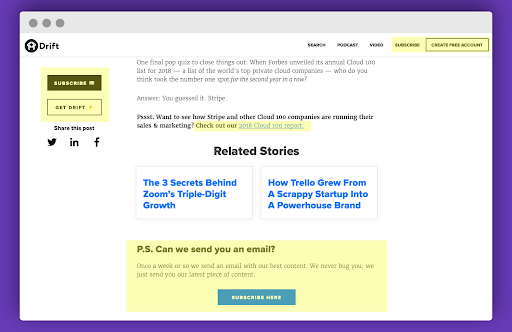 3. Don't forget the importance of your copy
We've been focusing a lot on promotion, but let's make one thing clear: quality content is the backbone of your campaign.
Don't forget to spend time optimizing and writing the ad copy and creatives that will be used in your content discovery campaign. A/B test several variations of the headline, description, and image to see what sticks with a given audience.
Always be sure to keep copy relevant to what's on the other end. Don't promise an article about a new productivity hack if it's actually just making a to-do list. There's nothing more frustrating than a bait-and-switch in advertising.
Pick the right content to drive action
B2B content syndication campaigns are only successful if the content is useful, relevant, and inspires people to take the next step.
Start by finding the best campaign content by looking at your paid acquisition efforts and setting specific goals. Then, optimize campaign landing pages by making it easy for people to take an ideal action. And finally, create ad copy that's true to the content and begs to be clicked.
With these three steps in mind, you'll be more than ready to launch and measure successful content discovery campaigns.