It's safe to say that skepticism in advertising is growing.

Cryptocurrency communities are especially skeptical of the ad industry. They're wary of bad advertising— and more specifically, advertising that doesn't add value. They tend to avoid traditional forms of marketing altogether. To be successful in reaching them, marketers need to leverage channels that crypto audiences will actually engage with.

Native advertising is a popular choice, but marketers can also take advantage of email advertising to reach crypto enthusiasts.
Wait, why email advertising?
Email has been around for a long time, but it's adapted pretty successfully into the digital world for an old school channel. Newer channels like social media may have taken the spotlight, but the benefits of email advertising are hard to ignore.
But why? 👇
It's contextual
Contextual ads are exactly what they sound like. Their content aligns with the publisher's content. What do we mean by this? Let's just say you won't see any ads about frisbees coming from a crypto publisher. Email ads blend in seamlessly with their surrounding content.

Why is this important? Well, readers are more likely to engage with an ad that aligns with their interests. Contextual advertising is especially valuable for crypto audiences because they'll ignore an ad if it feels irrelevant and out of place.
No ad blockers here
Crypto enthusiasts are known to avoid most forms of online advertising. They're the type of tech-savvy early adopters who are likely to implement an ad blocker. Email is the perfect medium for reaching ad-averse crypto communities because it bypasses ad blockers entirely.
It's scalable
The sheer volume marketers can reach with a single email advertising send is reason enough to test this channel. According to Statista, the number of global email users hit 3.8 billion in 2018, with 4.4 billion users expected by 2023.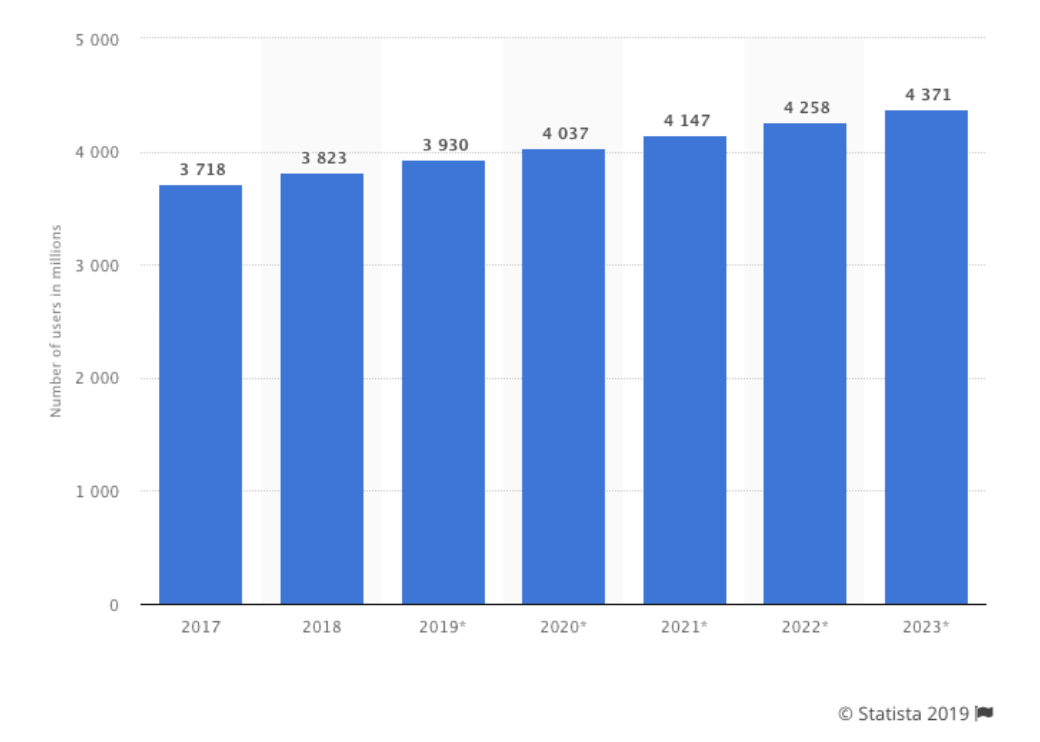 Scale in marketing is important— especially when your goal is to reach a niche audience like the crypto community. Email advertising offers automatic access to curated and highly engaged email lists with a common interest— cryptocurrency.

Pro tip: save time and further increase campaign scale across multiple crypto publishers by finding the right network.
For example, marketers use Coin Network to scale campaigns across the crypto vertical. Through a single campaign, advertisers can access multiple publishers like Blockchain.com, CoinGecko, Coinranking, and BitInfoCharts.
Campaign transparency
With email, you get a clear idea of what you're purchasing and why. Pricing is upfront and based on a publisher's exposure and reach. The right platforms also offer user-friendly interfaces that make it easy to track campaign metrics like opens, clicks, CTR, and conversions.
Built-in trust
Rather than building a new subscriber list from scratch, email advertising puts you directly into the inboxes of trusted publishers with loyal followings. This aligns your brand with established, reputable industry publishers. The result? Higher visibility, improved brand perception, and more clicks that convert.
The power of double opt-in
Advertisers can be sure they're reaching real people with the help of double opt-in. Publishers that support double-opt-in functionality build a higher-quality audience by verifying subscribers. This feature requires a user to confirm their subscription after initially signing up for an email list— essentially confirming their subscription twice. This way, advertisers can be sure they're reaching readers that are verified and engaged.
Email advertising types & your funnel
The two main types of email advertising, sponsored newsletter, and dedicated email, make it a versatile and suitable option for any stage of the funnel.

Want to drive brand awareness within a new audience? Email advertising. Looking to drive lower-funnel actions like downloads and free trial signups? Email advertising.
Sponsored newsletters
Sponsored newsletters are an effective way to highlight your brand to a new audience, making it perfect for top-of-funnel campaigns. This type of email advertising offers marketers a visible and non-intrusive placement within a trusted publisher's newsletter. Sponsored newsletters are extremely popular for top-of-funnel campaigns because they expand your reach to a new audience without driving them away.

Sponsored newsletters might sound simple, but marketers can make it their own with their brand's logo, a short message, and a sponsored post within the body of the newsletter itself.
Dedicated email
A dedicated email send is a single branded message sent to a publisher's curated email list. They tend to be longer in format, which makes them ideal for lower-funnel campaign actions like downloads or discount offers.

Dedicated email campaigns give marketers a unique opportunity to hook their ideal audience with a valuable offer. They are usually used to educate an audience, introduce a product, or drive a specific action.
Keys to successful email advertising for crypto audiences
So, how do you successfully implement an email advertising campaign geared towards crypto audiences? Since crypto audiences are skeptical, and the market is still maturing, marketers need to be mindful of their approach.
Work with crypto-supportive ad platforms
In the wake of crypto advertising bans on platforms such as MailChimp, Facebook, and Google, working with a supportive platform is essential. Advertising with networks that support crypto communities and have the reach required to connect with them at scale will make or break your campaign.
Crypto audiences want no-frills solutions to their problems. The purpose of your product and the value it provides should be apparent upon first glance. How can marketers achieve this clear-cut approach?
Copy. Make sure your copy is clear about your brand and offer. When in doubt, it's best to over-communicate and leave little to the imagination.
Landing page. Your ad should be complemented with a well-designed landing page that expands even further on your offer.
Call-to-action. Give readers a direct path to the desired action you want them to take.
Measure and optimize
As a marketer, you know how important it is to measure and optimize your campaign efforts, so we won't bore you with the in-depth details.

Metrics for email advertising campaigns are straight-forward. Publishers will share relevant metrics like opens, clicks, and click-through-rates, so you'll be able to determine pretty quickly if your campaign is on track to hit its goals. This information will help you analyze, measure, and optimize your campaign accordingly.
Stay in touch
The crypto space is very community-oriented. Crypto enthusiasts regularly rely on communications through peers and forums to stay updated on industry trends. To maintain a relevant presence in the crypto industry, marketers should keep in touch with their audience regularly. That means taking the time to build relationships and rapport through multiple campaigns over a period of time.
Final thoughts
The cryptocurrency ecosystem is a vibrant and collaborative community. Its rapid growth has led to a lot of opportunities. Email advertising may very well be the perfect strategy for taking advantage of these opportunities.

The perks of email advertising are hard to ignore. It's versatile, effective, and easy to implement into your marketing strategy. Now you just have to incorporate it before the competition catches on and beats you to it.