Are native ads the future of advertising? They're a big part of it.
Consumers are bombarded with ads. Constantly. We're all so used to tuning out the noise that we've even given the condition a name: "banner blindness."
But there's a simple way to win the modern online advertising game: create ads that people want to see. From display ads to native performance to sponsored content, there are so many different channels that marketers can use that aren't as 'in your face' as the tacky pop-up ads of yesteryear.
But with so many options available, how can advertisers figure out which medium best suits their message? The answer is simple. Think about who you're trying to reach and where they fit in your funnel.
For example, if you're trying to build brand awareness among designers (top-of-funnel or elsewhere), we've seen great success with native advertising.
This article is for marketers looking to find and appeal to designers while looking for new, non-intrusive ways to do it that actually work. Keep these things in mind when planning your next demand generation or brand awareness campaign.
What is native advertising anyway?
If you ask a few people, surely many of them will have different definitions of what native advertising is. It's often thought that native advertising comes in the form of advertisements written up for a publication that are about a product, but don't appear as an ad (to the point of deception). We define native advertising differently here.
In a nutshell, native ads are placements that "fit in" to the site or app in which they're placed. Unlike pop-ups or interstitial ads, which can be annoying and disruptive, these are non-intrusive placements that are designed to match the look and feel of the publisher's content.
Here's an example of Adobe using native advertising on a design website to bring awareness to Adobe Stock: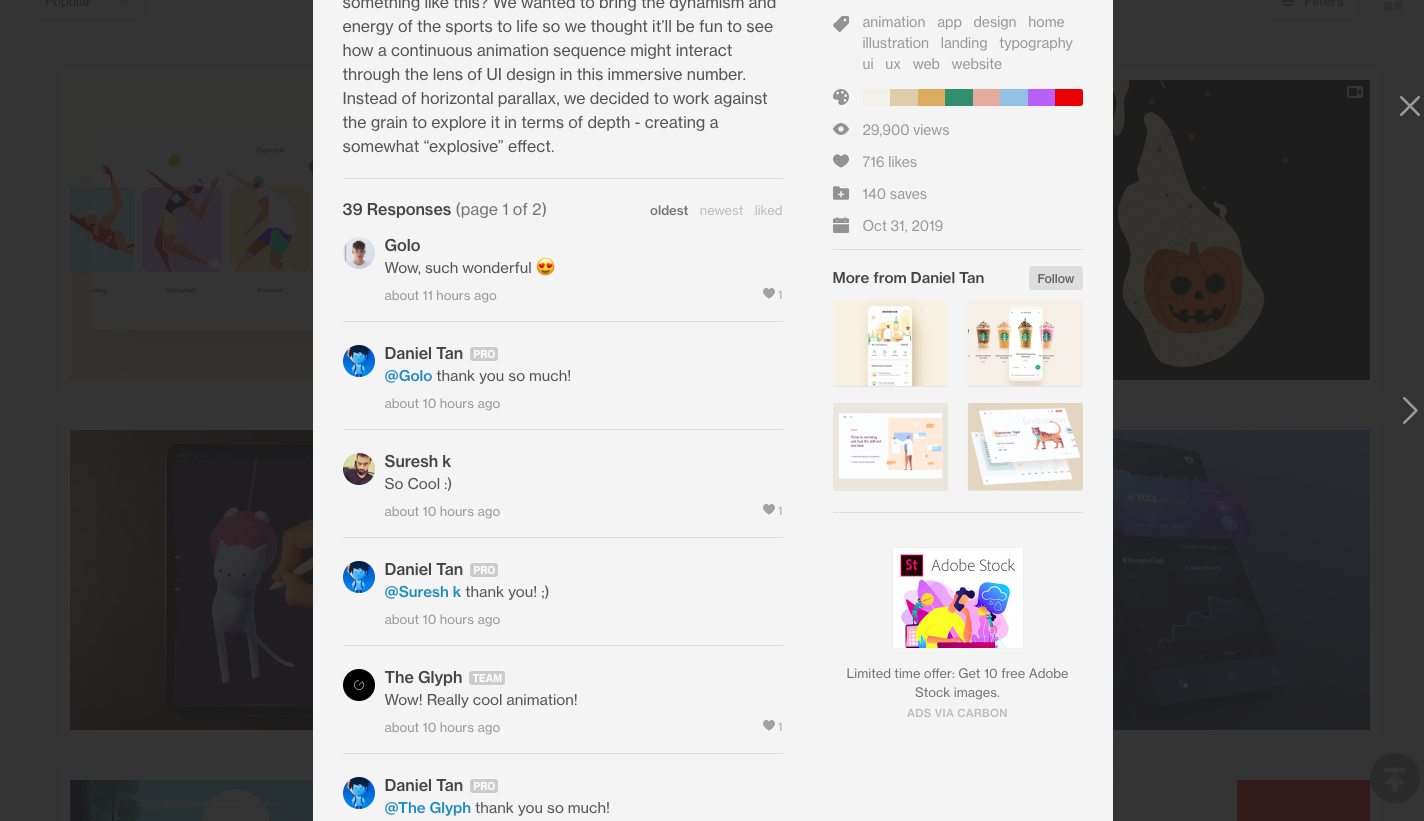 Native ads come in a range of formats – image and text, fancy bar, flex bar and sticky box, just to name a few. Many publishers also give advertisers options to build custom units. While these types of placements can look pretty simple, don't let that fool you.
A well-crafted tagline, description, and call-to-action can be a powerful combination. Especially if you're trying to reach designers. While you might feel you need to pull out all the stops to appeal to their creative sensibilities, in reality, it can be way more effective to keep things more straightforward and to-the-point. The more simple and elegant the design, the better.
Focus on producing top-notch native advertising that speaks to the specific pain points designers encounter in their work. Consider the Jobs-To-Be-Done Framework, and the problem you are solving for designers with your product. This will ensure your brand stays top-of-mind when they're ready to buy.
Above all, keeping it simple and UI/UX friendly is key.
Why is native advertising so effective?
There's a reason why so many brands, big and small, are putting more of their ad spend into native advertising. From a numbers perspective, they make a lot of sense. For example, a native advertising campaign Storyblocks ran received 6.4 times more clicks than industry standards - a huge difference in comparison with typical banner advertising. But there's a lot more to native ads than meets the eye.
Users can engage with ads on their terms.
You don't have to click out of a native ad or wait five seconds before you can move on to your next digital destination like interstitial placements. These types of ads don't interrupt the user experience, which consumers appreciate.
With native ads, if people are interested, they're going to notice. If not, they're not. This is highly valuable because it means that people who interact with native ads often have a more genuine interest in what you're offering, meaning they're more likely to convert down the line.
They blend in with their surroundings.
Consumers are pretty savvy and know all the tricks for dodging annoying advertisements. Our eyes are trained to avoid a website's header areas and right-hand sidebar area like the plague. Unlike conspicuous banner ads, native ads appear within relevant content, blending in to give a fluid and seamless user experience to the website visitor.
See this example from Monday.com that appears on FireFox New Tab: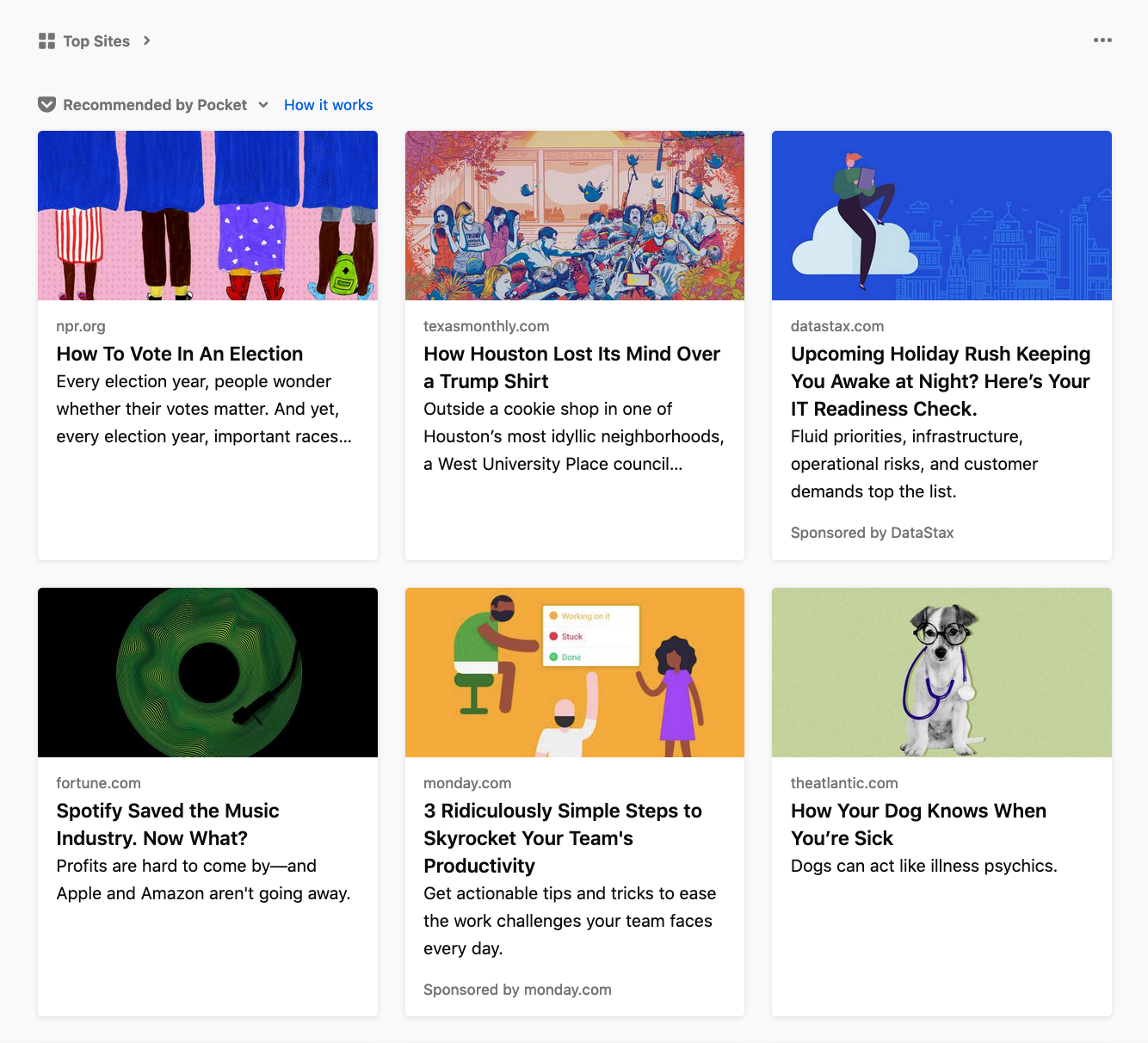 In other words, native advertising can help you cut through the noise. They don't distract from the content on the page. Still, they're clearly identifiable as advertisements, so you don't have to worry about your placements being perceived as deceptive or misleading.
Native ads can be scaled to fit your needs.
Advertising to designers can be tricky, to say the least. Trying to reach such a niche audience can be expensive and hard to reach at scale. However, if you run them on an ad network at scale, native advertising allows marketers to place targeted, unobtrusive ads on hundreds or even thousands of designer-focused websites – in a single campaign.
Native ads are simple (and designers love simplicity).
When you're talking to designers, it's always better to err on the simple side. Most designers will agree that a simple design is often the most efficient, aesthetically-pleasing and satisfying to the customer. Designers preach simplicity to each other. They write about it on their blogs. Simplicity is everywhere, and designers love it when they see it.
Contextual advertising at its core is all about serving the right message to the right people at the right time. That's why we're such big fans of native ads. They're proof that advertisers don't need to resort to invasive user data-based techniques or manipulative dark UX tactics to achieve their goals. One simple set of assets can be transformed into multiple native ad formats that can run on hundreds of curated websites.
Where native advertising fits in the funnel
Creating product demand. Finding new customers in target industries. Increasing product awareness. Driving lead generating actions like sign-ups and form completions. These are the kinds of top-of-the-funnel goals that native ads are perfect for.
For example, The Designest uses a sponsored native placement on Pixelbuddha to drive traffic to their site. This advertisement, which leads to their homepage, works to build brand awareness and trust by aligning their brand with a bigger name in the industry.

You can also use native advertising a little further down the funnel to reach people at the interest stage. These prospects likely already know about you or are looking to buy a solution like yours, but want a little more info before they make a purchasing decision. In this sense, positioning your product in the right publications and staying top of mind for leads can help influence decision making when it happens.
Now ask yourself: where does your target audience land in your funnel (what are your goals?) and what does an ideal conversion path look like for them? Like any advertising campaign, before you launch your native placements, you need to have a solid strategy.
If your campaign is focused around brand awareness, then you might want to lead them to your homepage and track simple KPIs like an increase in traffic or time-on-page. If your goal is to generate quality leads, then you'll want to track sign-ups and create a landing page that's optimized to convert.
When evaluating the effectiveness of your native advertising, you'll want to keep an eye on both click-through and view-through conversions. The latter are people who see your ad, don't click on it, but convert on your site later on. Measuring this ripple effect can give you a better idea of the ROI you're getting from your campaign. It can also help you optimize campaigns based on the way users respond to your ads.
All in all, you need to be clear on your business objectives to make the most of native advertising. Great copy and creative won't save you if you don't know how or when your customers are going to convert. Native advertising campaigns meant for top-of-funnel brand awareness are going to look different than campaigns designed for middle or lower funnel actions.
How to create native advertising for designers
Now that you have a general idea of how native advertising works and where it's most effective, it's time to get specific. It can be tricky to segment design audiences on huge advertising platforms, but it's not impossible. You just need to spend a little time stepping into your designer audience's shoes so you can meet them where they are.
Understand your target market.
Designers read the latest news, search for resources, browse for inspiration, and listen to podcasts, just like anybody else. What stumps most marketers is the task of figuring out exactly where they're consuming content so you can make sure your marketing efforts are reaching the right audiences.
The quickest and most effective way to do this is to advertise with trusted publishers that already have designer followings. Publishers create content for audiences, usually at niche levels, which in turn allows marketers to target these communities accurately.
For example, you could advertise on Vecteezy and GraphicBurger to reach graphic designers and illustrators, UX Booth and Mockuptree for user experience designers, or Scotch Development and Web Designer Depot for web designers.
Choose a network that curates high-quality publishers.
While you could certainly turn to Google to find publishers that cater to design audiences, this can be an arduous job if you try to do this yourself. Working with a premium ad network can help speed up the process. These platforms help marketers get their campaigns in front of niche audiences at scale, while also ensuring publisher websites are vetted for content quality and ad performance.
There are several ad networks that cater to specific audiences – including ones built specifically for designers and developers. When you partner with these platforms, you get the peace-of-mind of knowing your campaign will only appear on high-quality websites and that your ads will appear next to content that's valuable to your audience and relevant to your brand.
Nail your copy and creative.
As you could probably guess, designers are visual thinkers, so you might want to spend some extra time on your ad creative. If you need a little campaign inspiration, you can check out design websites like Dribbble, Typewolf, or Design Ideas to find out what creative elements designers are loving right now. For example, custom illustrations, bold colors, asymmetry, animations and gradients are all currently trending, so including these elements in your campaign will ensure it feels fresh and modern.
You'll also want to make sure you're speaking to specific types of designers. Just like in any other industry, there is a wide range of specializations in the field of design so you can't use a one-size-fits-all approach. Instead, get into the mind of your designer audience and figure out what job your product is hired to do and for whom. This is what the jobs-to-be-done-framework covers. How does your product make it easier or faster or more comfortable for UX designers to get their work done? Or graphic designers? Once you have a strong answer, tailor your ad copy accordingly.
Lastly, don't forget the words. Designers are busy and don't have the time to decode a high-concept ad. Keep the copy light and simple, serving as an accompaniment to a more interesting or impressive visual piece.
This native ad from Envato on Graphic Burger (middle image) checks all the boxes. The value for designers (i.e. unlimited downloads and commercially license assets) is immediately clear and the creative showcases their product offering.
With the limited space you have, you should waste no time in explaining how your product solves the problem designers are looking to solve.
Consider a multi-touch attribution model.
It can take multiple touchpoints before a lead becomes a customer. However, traditional attribution models give all of the credit to the first or last marketing touchpoint a customer interacts with before they convert. That could be your native ad campaign, a display ad, an email, a blog post, and so on.
While these models are a lot simpler, they can lead you to unfairly prioritize one of your marketing channels over the others. Multi-touch attribution assigns credit to every touchpoint in the consumer journey according to its influence on driving a conversion event.
Under the umbrella of multi-touch attribution, there are a couple of different models. For instance, with a position-based model, the first and last touchpoints in the consumer journey receive a higher weighting than the touchpoints in between. In a time-decay model, the percentage of credit gradually builds while leading up to the last touchpoint in the consumer journey. This type of model works well for shorter campaigns.
By implementing a multi-touch attribution model, you can get a more cohesive view of how your ad campaigns are influencing leads - which will be beneficial when reporting the value of your ad campaigns further on! After all, you want to be able to properly communicate the value of your hard work.
Making the most of Native Advertising
Native advertising is gaining traction online for a reason. As more publishers turn away from annoying, privacy-invasive advertising, advertisers are finding simple, unobtrusive ad placements can still be effective in developing brand awareness and driving action with designers. It's as simple as knowing where your audience lives online and getting in front of them.
Also, while you can grab a designer's attention with an eye-catching graphic and compelling copy, you want to make sure that you know what you want them to do next. Campaigns at different funnel stages will look different. That means different creative, messaging, and end destination.
Native advertising comes with a laundry list of benefits, but you still need to align it with the complex journey your leads go through if you want to see results. Once you get all these moving parts working in sync, you'll be able to attract and convert those highly-coveted designer prospects in no time.