Fewer intermediaries, less back and forth, expanded sales funnels, restored bandwidth, and streamlined purchasing are all a result of selling online advertising inventory directly to buyers through an automated guaranteed platform like BuySellAds.
Automated Guaranteed: A type of programmatic advertising that refers to the automated direct sale of reserved ad inventory between a buyer and seller.If you're a seller, you're likely looking for ways to streamline and automate the things that eat away at your time on a daily basis, diminishing your natural ability to close strategic accounts. Your professional goals, ultimately, are directly tied to the bandwidth you have to strategize and work on mission-critical projects. Decreasing the time spent on ad operations minutiae like zone availability and placement is a fantastic way to restore your bandwidth and increase the time you have to spend on the thing that matters most to your company: growth. Automated Guaranteed can cut out a large section of your to-do list – permanently – helping you rise above and maximize your potential.
If you're a buyer, you may be looking for the peace of mind that comes with knowing that ads are being managed programmatically, affording you the ability to monitor performance, and discover placement options when you need them. Automation will afford you the time you need to focus on other things, including both strategy and testing. Getting back to your passion, and focusing on maximizing brand recognition, awareness, and reach can all be difficult when a large part of your daily to-do list is focused on verifying placements and ad availabilities.
Regardless of which side of the table you sit on, there is one thing to which we can all agree: time is money, and the right piece of software in your hands can quickly turn a great sales quarter into a record-breaking sales quarter. The right piece of software can be the difference between liberating your team, and having to hire more people just to manage the daily adops and sales grind.
So, how can both parties achieve their goals, and restore the bandwidth needed by their companies? One way is through a programmatic advertising method called "automated guaranteed."
Programmatic advertising has the media-buying world excited and with good reason. By the end of 2016, programmatic advertising will account for up to 63% of display ad spend.
This streamlined, technologically-driven version of the direct sales process helps buyers and sellers meet their needs efficiently and cost-effectively.
If you're new to automated guaranteed and programmatic advertising, let's break this down by explaining exactly how it works.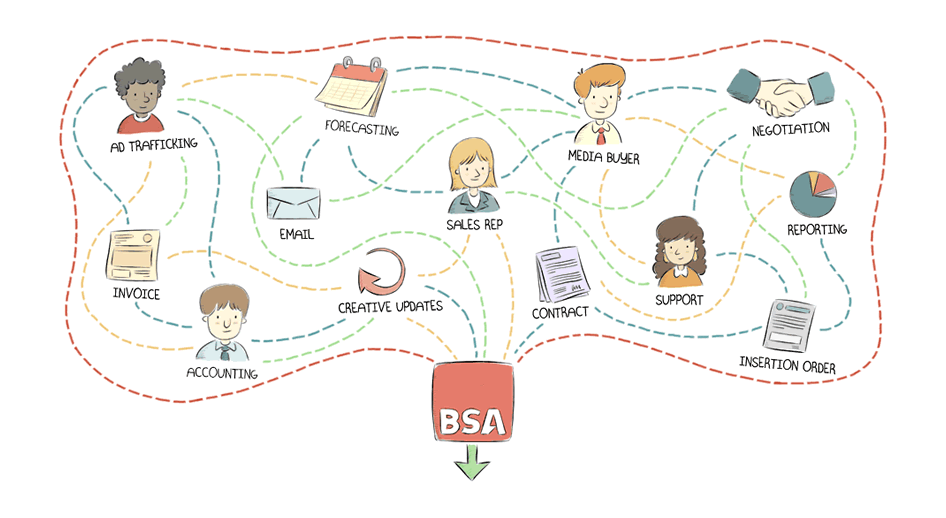 How Does Automated Guaranteed Work?
Automated guaranteed can be broken down into two parts. Let's look at both of these in detail.
Automation
With prices set, advanced targeting configured, and impression availability displayed for ad zones, the process of purchasing inventory is a relatively straightforward experience for buyers.
Buyers are encouraged to build campaigns by selecting their placement and targeting needs, then pick the number of impressions they wish to purchase. Once those selections are finalized, buyers are then prompted to upload creatives, input URL information, and checkout directly from within the platform. The creative is then scheduled for display, the invoice is paid, and the campaign is prepared for display automatically.
On the surface, it may seem like automation tools and sales team job security are directly at odds, but in the case of Self-Serve Direct – The BuySellAds automated guaranteed platform – the application was built to liberate your sales team and help members maximize their sales potential, not eliminate their positions. This is accomplished by helping them focus energy on more valuable activities, like chasing larger, strategic accounts.
With BuySellAds, buyers can secure their inventory without ever having to leave your publication to finalize their purchase. The entire transaction, from beginning to end, is handled directly within our portal. Our software, when used to facilitate direct sales, will never send advertisers to 3rd party platforms to complete ad sales, and will never create distance between both you and the advertiser as they look to finalize their purchases.
What that also means, then, is that buyers can finalize their purchase without ever having to contact adops about availability, placement, targeting options, and other low-level placement questions. In fact, our platform is designed to help sales teams stay out of the trenches and instead focusing efforts on building better relationships with their clients. By design, our software is built to cultivate higher-value relationships.
Guarantee
Automated guaranteed platforms are traditionally operated by third-party companies, which allows for both buyers and sellers to work within a standardized construct. What that means for everyone involved is that buyers can be certain that the information being provided to them about impressions and other metrics is accurate. The third party acts as a facilitator, encouraging trust between both the buyer and the seller. It also means that both parties can focus on value and deliverables, without having to worry about impression counts and performance definitions. The third-party has no bias in the relationship and simply wants to help facilitate the deal for both parties.
Real-time bidding (RTB): An auction-based advertising system where buyers bid on inventory by impression.
Since most automated guaranteed ad buys fall outside of the auction or RTB (real-time bidding) structures, buyers have total transparency around the amount they are spending and what they are going to get in return. This transparency and the attached guarantee will often result in more dollars being spent by buyers. In fact, by controlling the inventory and dictating the zone prices to buyers, publishers can both guarantee high-end inventory to buyers as well as control the value of their inventory. The most valuable inventory -- the stuff buyers crave -- often can't be reached through bids on ad exchanges.
Why Is Automated Guaranteed Useful For Publishers?
Automated guaranteed lets publishers effortlessly share inventory with buyers while supercharging sales teams by restoring valuable bandwidth so team members can work on important, strategic accounts, instead of losing time communicating information about trafficking and availabilities on a daily basis. Sales teams can also target higher-value business, while continuing to fill the pipe in an automated, highly optimized way.
When publishers afford buyers the ability to create their own campaigns and choose what works for them from a pre-determined list of options, they eliminate the need for discovery calls as well as any on-going back-and-forth communication that doesn't directly impact the value of the deal. By eliminating the need for communication about trafficking and availability, conversation with buyers instead focuses on results and further sales. Gone are the days of the never-ending RFP process, and in its place is a clean and streamlined digital process.
With the reduction of "busy work", publishers have found that they can spend their time having more in-depth, strategic conversations with their buyers and the brands they work with, which naturally produces an increase in both efficiency and performance, while freeing up their sales teams to focus on higher-value, strategic accounts.
Why Is Automated Guaranteed Useful For Buyers?
With automated guaranteed, buyers receive complete transparency through the entire media-buying process.
Transparency is critical as it allows buyers the ability to check in real time the availability of inventory and procure that inventory by ad units, timeframes, audience, reach and frequency.
Within automated guaranteed, there is an extremely simple structure at play: one buyer, one seller and one third-party intermediary sitting between the two that streamlines the purchasing process. While transacting, neither party gives up control nor flexibility. Since the publisher isn't building in excess costs to cover bloated overhead, more of the dollars spent go directly to media, which means that buyers are receiving more value for their money.
Automated guaranteed creates a win-win for buyers and publishers alike.
See Automated Guaranteed in Action
We've been successfully helping publishers reach buyers, and exceed their organizational goals.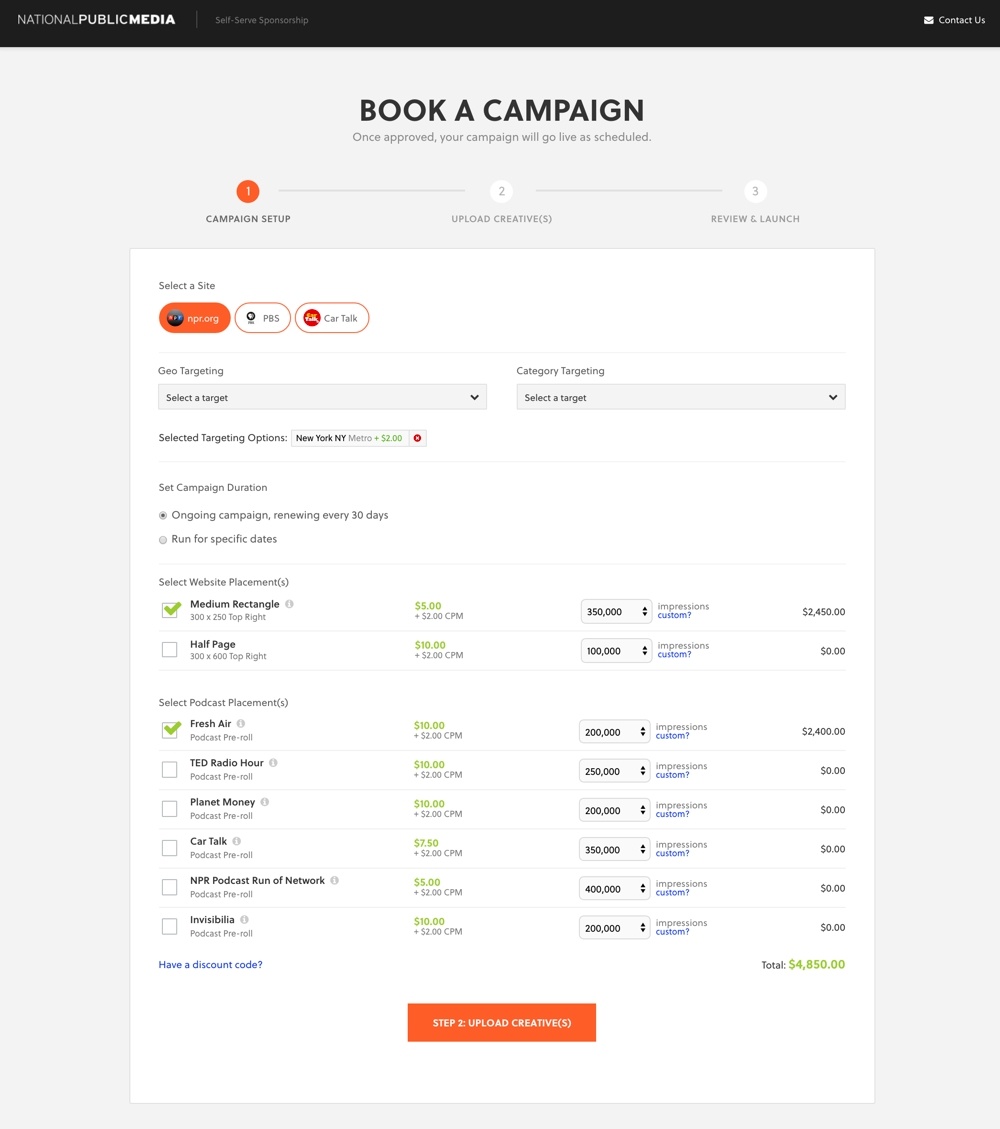 BuySellAds is the only direct sales platform that allows full white-labelling (see the example above from NPR). It's a fully managed, fully hosted, zero-touch solution that requires no tech expertise on your team. The platform has helped publishers capture more display revenue, sell guaranteed inventory, showcase their most valuable segments and realize the cumulative value of small-budget advertisers.
Additionally, with BuySellAds, sales teams can be compensated for all sales directly through the platform. Our platform has a built-in Sales Tracking Attribution system that accredits automated direct sales to the team member that initiates the sales process. Because of the streamlined nature of our platform, sales team members can place orders quicker and more accurately. As a result, our sales attribution tracking system actually increases your team's commission payouts.
Simply put, with BuySellAds the chaos and complexity around selling ad inventory online can be reduced while the ability to drive more sales, and close deals is greatly increased. Automated guaranteed, and our platform alongside it, will play a large role in re-aligning digital advertising's priorities. Over the course of the last 8 years, the ad tech industry has been chasing both profit and scale with Real-Time-Bidding. The results have been less than ideal, and is often categorized as 'a race to the bottom.' Instead of joining the race, we set out 8 years ago to start building the ad tech stack of the future. The future is here, and it starts at the top with direct sales.
Want to get started with an Automated Guaranteed solution? Check out our Self-Serve Direct tool.