Have you ever seen an advertisement that was almost like a chameleon?
You know the ones I'm talking about. It's an advertisement, but it's cunningly placed to match the look, feel and function of the website you're on.
That's native advertising. And it's changing the way people are interacting with ads and content. A study by eMarketer predicts that US advertisers will spend almost $44 billion on native ads alone this year, a jump of nearly $9 billion.
As audiences become disengaged by retargeting techniques across social media, it's no surprise that native advertising is expected to crack $50 billion next year.
And if you're targeting early adopters, native advertising is emerging as an alternative channel to get them thinking about your products. This is especially true when it comes to demand-gen marketers looking to utilize techniques that can help widen the top of their funnel. Because contextual targeting like native advertisements are less intrusive and they live on websites early adopters trust, their average click-through-rate is 3x higher than traditional banner ads.
Marketers are targeting early adopters for good reason. Early adopters represent a fast-growing segment of consumers, and while they have the power to make or break your product, having early adopters on your side can bring a loyal user base that will passionately advocate your product online and can influence explosive growth.
This article explores what native advertising is, why it's effective, and how you can utilize it to inform your next marketing campaign (including strategies for top, mid, and lower funnel) when targeting this unique, delicate segment of consumers.
What is Native Advertising
Native ads are non-intrusive placements that fit in context with the website. Like we've already said⁠—they are advertising chameleons.

If you do native advertising right, your ads will become curated suggestions rather than irrelevant, annoying ads the viewer has no interest in. And the funny thing about native advertising is that it's not a new concept.
Ever seen an advertorial in a newspaper? Or in a magazine? These types of native advertisements are "sponsored content," and they've been around for over 100 years. Like this one: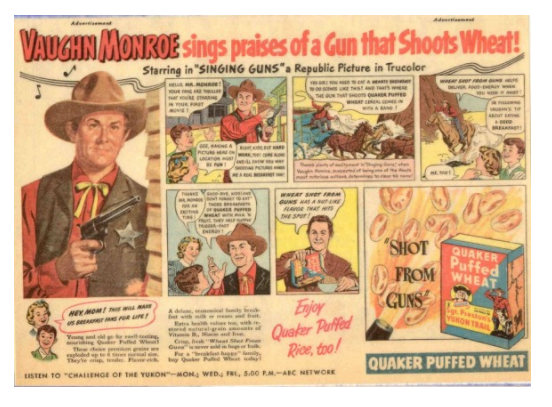 You might think that's a comic strip about a gun-toting sheriff. In reality, it's an ad pushing Quaker puffed wheat. And that folks, is the beauty of native advertising.
Native advertising is a unique way to attract early adopters on many levels. They are not spammy, and they are shown to your target audience on a website that they visit regularly. But most importantly, they are displayed on sites readers trust.
According to the state of the native advertising landscape:
Almost half of the consumers have no idea what native advertising is
Of those consumers who do, 51% are skeptical
Three out of four publishers offer some form of native advertising on their sites
90% of publishers either have or plan to launch native advertising campaigns
41% of brands are currently using native advertising as part of broader promotional efforts
This is especially valuable for demand-gen marketers looking to reach skeptical audiences like early adopters online.
But what types of native ads are out there? The most common types, apart from sponsored content, blend into websites in four ways:

When it comes to targeting early adopters, native advertising can help you create consistent awareness. And with constant awareness, your product stays top of mind when they start thinking about solving their problem down the line. The benefit of this can be seen when tracking view-through conversions.
Native ads can also increase the lead quality of the early adopters you're targeting. Because the ads are only shown on sites (that are relevant to your product) that they trust, the quality of your leads will increase. And that means less advertising spend on the same amount of leads. A win-win? We think so.
Why is Native Advertising so effective?
Native ads are effective for one simple reason: users can engage with them on their terms.
So much of today's advertisements are overwhelming. They're on Google. They're on our Facebook feeds. They're even at our bus stops. With native ads, if people are interested, they're going to notice. If they're not, they won't.
And that's why they're better received than stock standard ads. While some sites might cram four different banner ads on a single page, native ads tend to be shown on their terms to blend in.

Because of their in-feed placement and adaptable design, native ads have much higher CTRs than banner ads.
On top of that, they're built to play well on mobile devices and tablets. And this is important—the average US adult spends about 86 hours a month glued to their phone, so for your ad to convert, you need to be reaching early adopters on their level.
BREAKOUT
Don't overlook the value of banner advertising in your strategy. Display advertising doesn't exactly work the same way as native, but it can be helpful in filling specific parts of your marketing funnel. A lot of leads require multiple touchpoints before they turn into customers. Using display advertising in your marketing strategy can help you reach your customers across more touchpoints.

The secret sauce to using banner ads in the right way is placing them on sites with fewer ad zones. Remember, less is more when it comes to display advertising getting noticed.
The last reason why native ads are so effective? With the right ad network, they escape ad blockers. According to data from Statista, roughly 25.8% of internet users in the US alone are now using an ad blocker on their connected devices.
And it's expected to climb to 27% by 2021.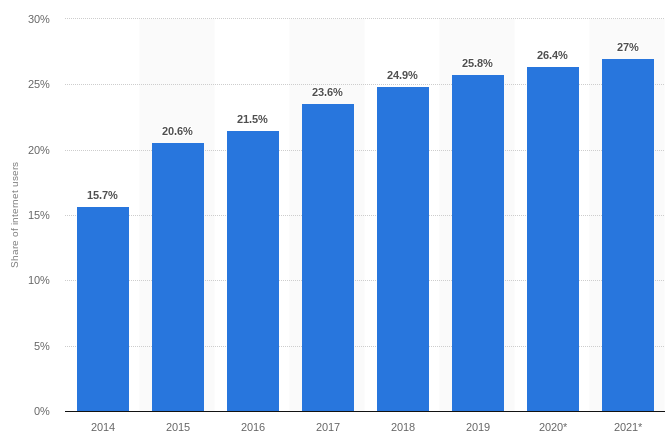 If you choose an ad network that serves ads that respect the user interface, they can be part of the Adblock plus program and bypass Adblock entirely. This puts you at a key advantage over advertisers on other networks.
Where Native Advertising fits in the funnel
Native advertisements are often used to fill the top of your funnel.
But realistically, they can be beneficial at any point from the first touch to sale. Because native ads can be used as the first touch on your brand, or to build awareness and drive leads, they are incredibly dynamic for marketing funnels.
Let's see how native ads could work with getting early adopters on board.
Firstly, native advertising could help in the discovery phase. After all, they are hunting for a solution to a problem. But early adopters want to find it on their own terms and away from certain kinds of mass marketing. Native ads can also help with top-funnel goals, like increasing product awareness and driving leads through sign-ups and product trials.
However, the vast majority of consumers are doing research online before engaging with a brand to make a purchase. According to SiriusDecisions, 70% of the buyer's journey is complete before a consumer engages with a brand. This backs up our next point that native ads can be extremely useful in the later stages of a product's funnel.
In a Content Marketing Institute article, Native Advertising Institute CEO Jesper Laursen says native ads can be used in the convert and close stages of the funnel: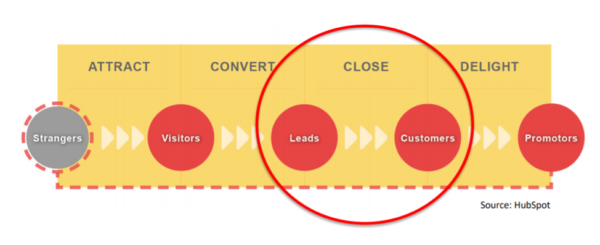 "People are aware of your brand and have consumed some of your content," Jesper Laursen says.
"Think of your content as fire, and native advertising as gasoline poured on it."
"Native advertising helps your leads convert to customers and helps turn customers into advocates and promoters."
For native ads to be successful in bringing early adopters into your funnel, it's essential to optimize each ad for every touchpoint. Don't build a native ad campaign if you've got no plans on how you're going to convert traffic (for example, custom landing pages or just directing to your home page?).
In this sense, it's helpful to create campaigns around which area of the funnel you're targeting, and optimizing the rest of your campaign to match your goals. A top-of-funnel brand awareness campaign is going to look different and have a different set of KPIs (for example, brand mentions or home page visits) than something much lower funnel (for example, conversions).
How to Create Native Advertising for Early Adopters
Target their emotions
Getting early adopters to trial your product relies on stimulating their emotions. They need to feel the excitement of finding a new product and experience the thrill of announcing it to their social circles.
Targeting their emotions can reinforce all the pleasures that every early adopter craves.
Case in point: Slack.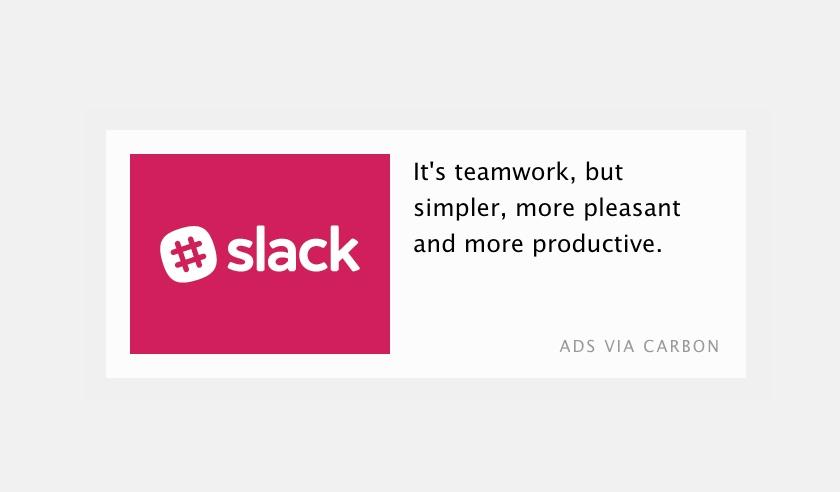 The cloud-based messaging app found success in running native advertising by piquing the curiosity of its target audience. And it's a move that's been critical to getting early adopters on board.
Using channels like Carbon Ads, the company was able to target specific groups that other platforms like Google Display Network can't. The ability for more accurate targeting meant there was less money wasted on ad spend, and these B2C tactics helped Slack grow super fast.
Slack's former Growth Marketing Manager, Holly Chen, said that the company realized their more playful ads were performing much better than more serious and corporate-y ones.
"Ultimately, when we market to a business, we're still talking to a person," Holly told us in an episode of Re:Growth.
"The person has hopes and dreams, and desires and fears, so understanding the customer is the first and foremost for both B2C and B2B."
Holly said Slack had developed customer segmentation based on user psychology versus the standard demographic and industries.
"We really put ourselves in the shoes of these different personas and their pain points and what they care about."
It's through this strategy of being authentic and utilizing human emotions (on the right ad network) that Slack continues to see success with native advertising, especially in the case of early adopters.
Target them where they hang out
Early adopters love to hang out in their own communities.
Depending on the type of early adopter you're targeting, they might hang out in places like Reddit, Quora, or niche forums. So, it's crucial to test the native advertising waters on these platforms.
Most platforms have the tools to allow brands to launch native advertising campaigns like Reddit's very own native ads channel—r/redditads.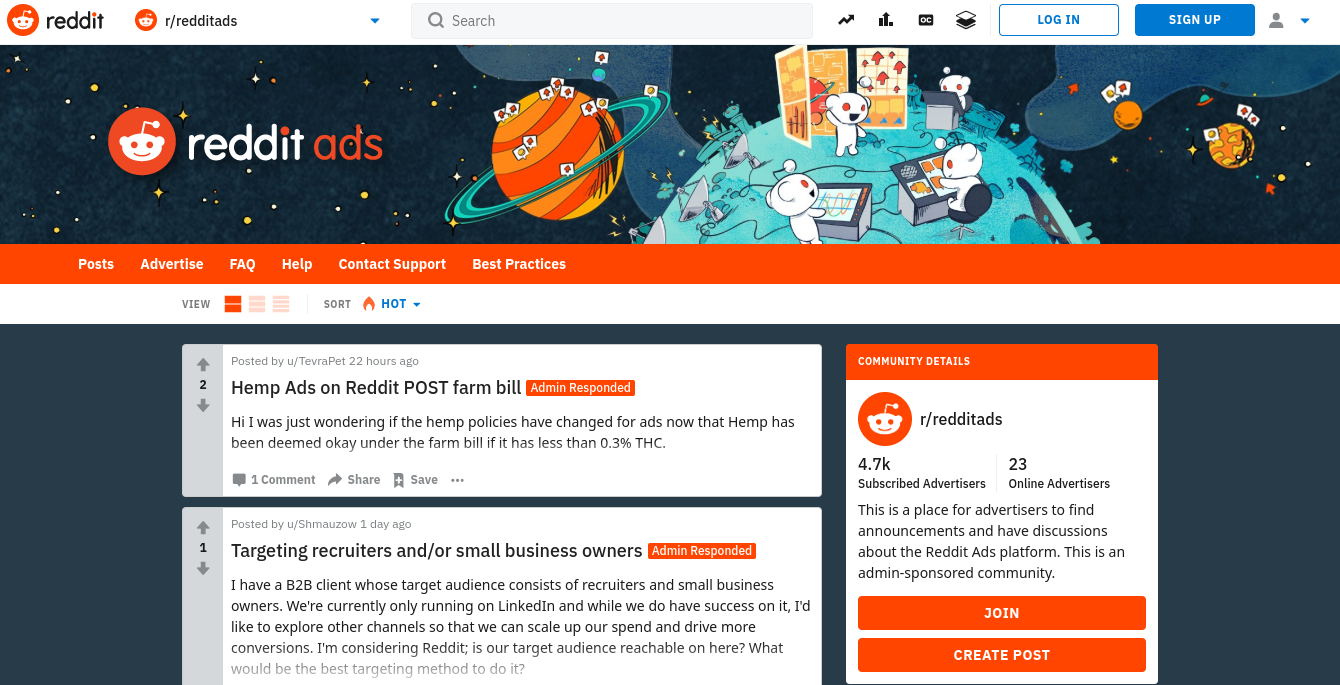 The best way to crush native ads on Reddit is to become a Redditor yourself. Once you know your way around the platform, it will be easier to build custom pieces of content that are actually native ad pieces.
Let's take a look at an example of how native content appears on Reddit.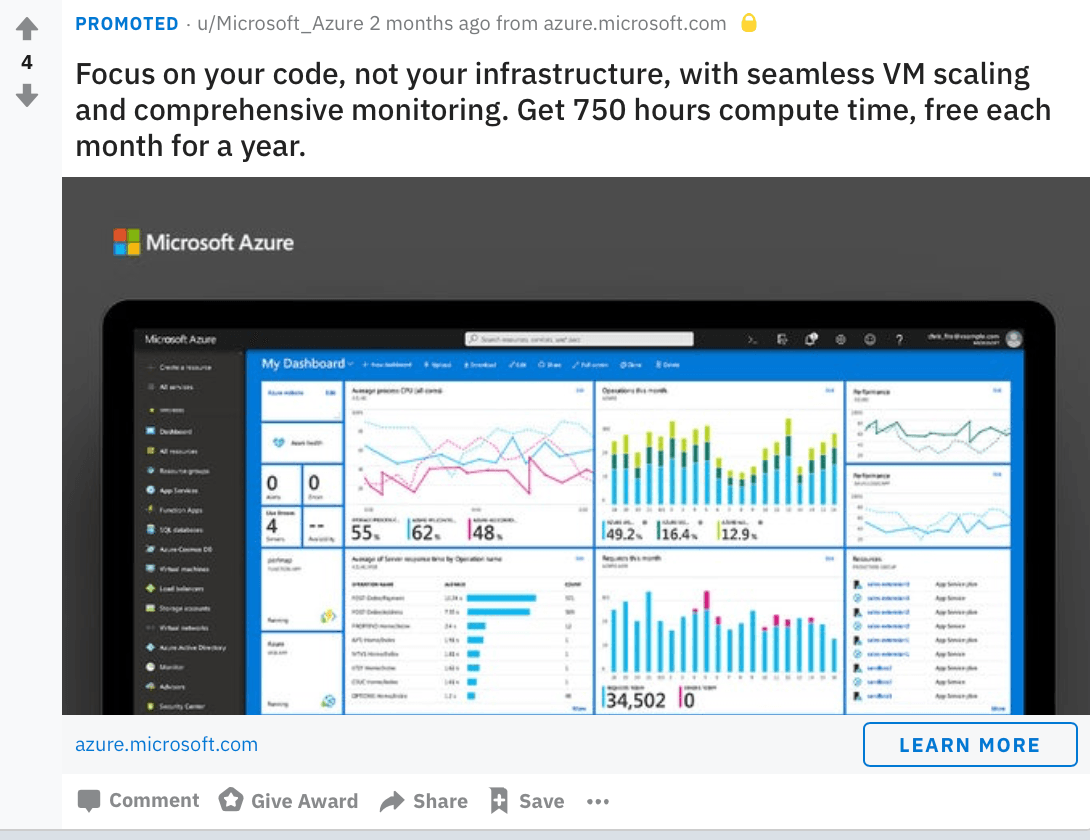 Okay, the Microsoft Azure ad is labeled as an ad ("promoted"), but it's still offering the target audience something to sink their teeth into—750 hours of free compute time every month for a year. And we found it on a coding thread on Reddit, so it appeals to the product's target audience, not just the masses.
The more your ad fits in with what people have gone to that subreddit to view, the better. This example shows how important context is in native advertising - and advertising as a whole. In this case, it comes off as a curated suggestion more than an irrelevant advertisement.
In another example, you can see how Slack is targeting early adopters on a community they go to for development tutorials and courses: Scotch.io. When a user scrolls to the bottom, they see a contextual native ad for Slack: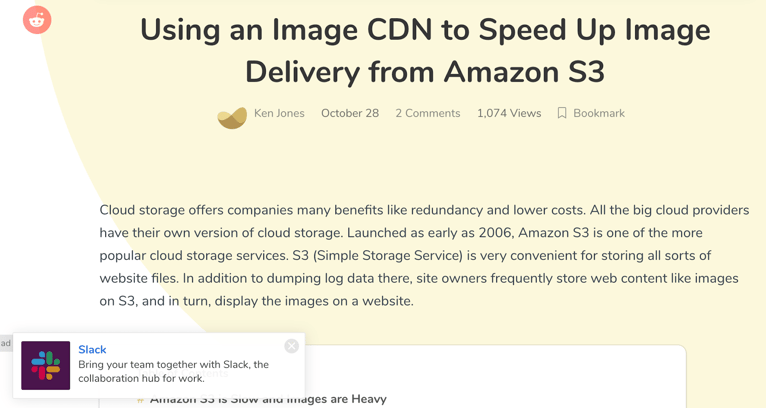 This thinking can be applied to any other online community where you seek to target early adopters. By promoting relevant products on the right publishers in a way that fits with the user experience, you put yourself at an advantage.
Don't be distracting, be creative
Traditional ads are distracting. They have to be to get anyone's attention in a saturated advertising market.
Ashley Kemper, the Head of Acquisition Marketing at Asana, says that native ads should be the exact opposite. She says a successful native ad will not feel like an ad at all but instead will be unique and engaging content that a user wants to consume voluntarily.
"Small businesses with no dedicated creative team may assume they can't produce the necessary content to be successful in native ads, but starting small with promoted social posts before working up to larger efforts will allow them to test the effectiveness of tactics as they go," Kemper says.
And using distraction-free ads is how Rollbar managed to introduce engineers to its product and drive website sign-ups continuously.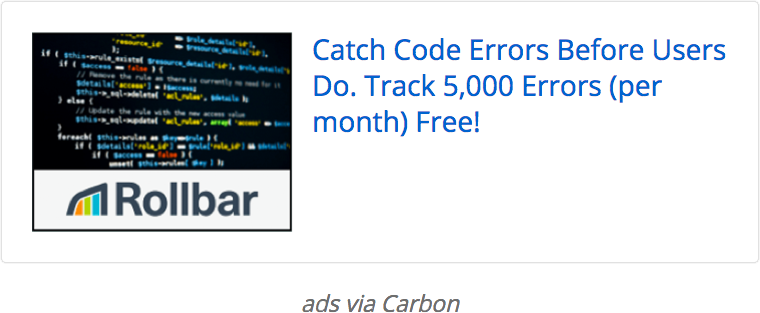 The company uses native ads to reach its target audience using publisher content without intruding on user experience. Native ads helped the company reach new customers on sites like Coding Horror, Bootstrap, Hacker Newsletter, Sitepoint, and HTML5 Weekly without being distracting.
Rollbar's Head of Growth Mike Smith said using native ads meant the company could directly target developers on high-quality properties without having to dig them up themselves.
The results in hard numbers since Rollbar started using native ads? A 2.4X increase in ad clicks.
Don't advertise using a "one-size fits all" approach
Early adopters aren't all the same. So you can't use a "one-size fits all" approach for advertising to them.
Audiences, and especially those who look at themselves as early adopters, now expect companies to create content that speaks to them—not the masses. Part of this requires brands to present an authentic personality with personalized ads.
Advertising to segmented audiences early in their launch phase was how Blue Apron was able to score millions of new customers. Using native advertising, Blue Apron centered their marketing around "suggested content" to appeal to early adopters.
The goal was to get audiences to read their articles, which were mainly positive reviews of their products wrapped up in sponsored content.
And this is what Blue Apron's "ad" looked like on the inside, once clicked: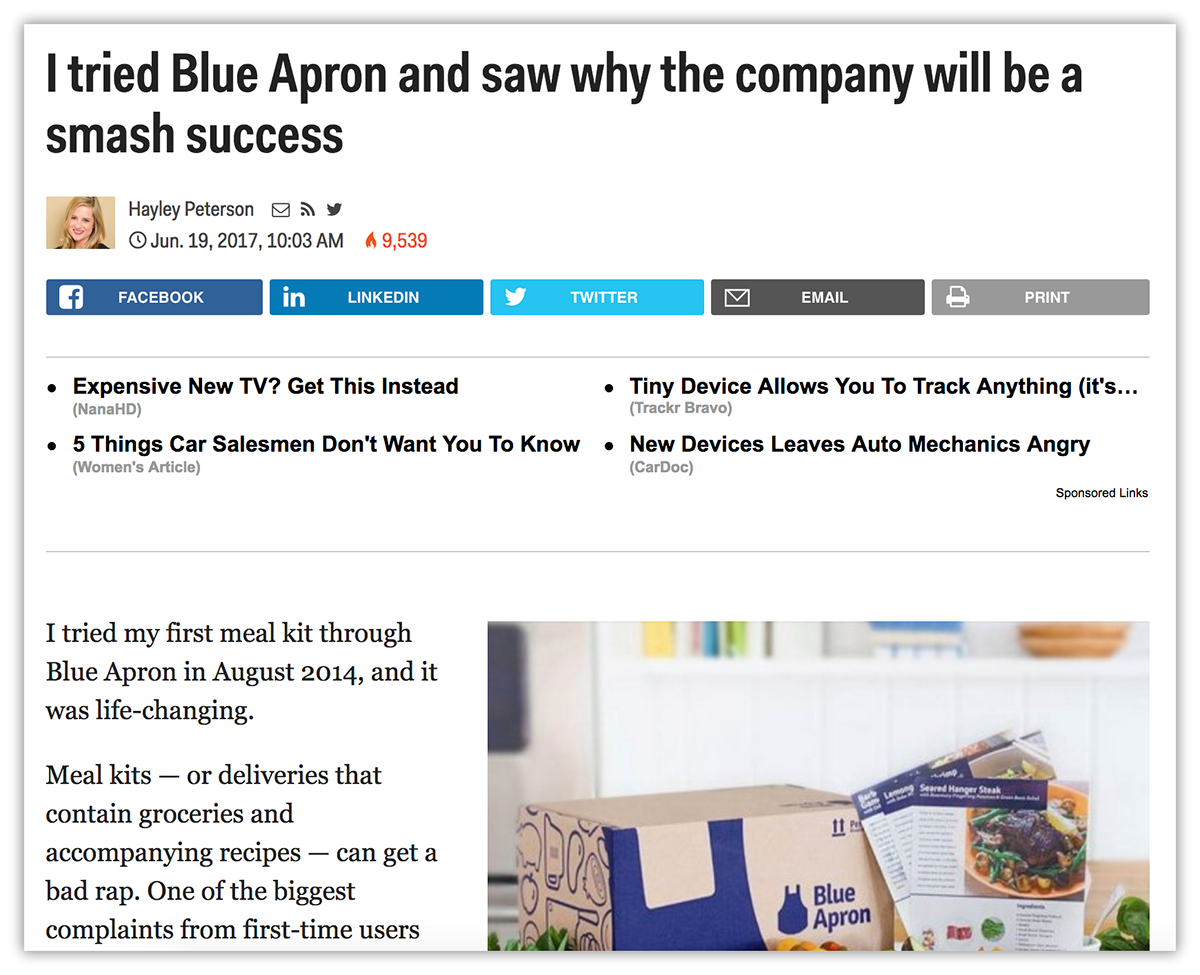 It fits into the site seamlessly, but it's still an ad, and that's the beauty. The best ones are designed to spark interest and make your audience want to know more about your brand.
Pro-tip: Always measure campaigns with appropriate KPIs for native advertising. Unfortunately for Blue Apron, they had a kick-ass campaign to get early adopters to try their products. Keeping them around however, was a problem.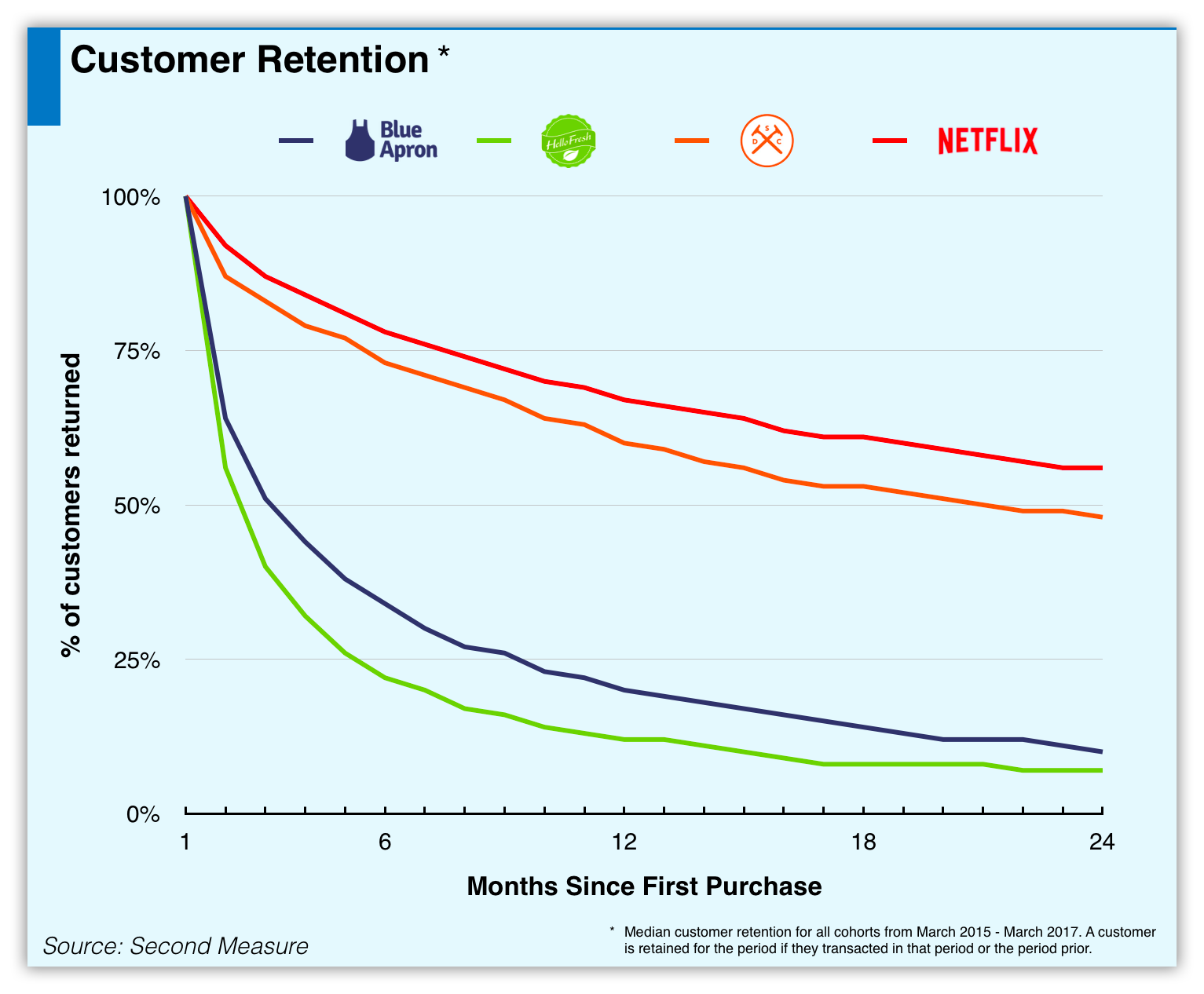 Within a year, Blue Apron was losing about 80% of their new sign-ups. But the problem was Blue Apron's customer acquisition costs (CAC). They were spending roughly $150 on CAC for each new customer, and to break even, they needed the customer to stick around for about 12 months before they became profitable.
The numbers don't add up, do they? That's why it's essential to track your campaign's KPIs to see how successful they are for growth.
Directly sell through trusted publishers
Target early adopters where they are looking for solutions.
It's important that you're not just placing ads for your product anywhere and everywhere. Readers react differently to advertisements on publishers they already trust - and this trust transfers over to how your ads are perceived through a psychological phenomenon referred to as The Halo Effect.
CircleCI, a platform that automates the build and test process for software companies, hit a brick wall when they were trying to get early adopters on board from Enterprise level companies.
So, they turned to native advertising to reach early adopters through trusted publishers.

An example of CircleCI's native advertising
The company invested in targeted, unobtrusive native advertisements and had them placed on hundreds of developer-focused websites such as Deployer, Scotch.io, and Window Resizer. By targeting developers through trusted publishers that their target audience already respected, CircleCI decreased its cost per lead by 65%.
Mike Stearns heads up CircleCI's Marketing & Demand Generation, and he said their growth depends on reaching influential software developers at large companies.
"CircleCI's campaigns refer new customers every day while supporting publishers and developer communities online," Mike said.
It's important that when utilizing native advertising in your next campaign, you choose high-quality publishers that your target audience reads and respects. This will lead to more valuable, high quality leads that will actually be interested in your product and be more likely to convert.
Wrapping Up
Native ads are smart.
These ads are one of the best ways to get your brand noticed by early adopters without them noticing that you're advertising to them. And that's because of the anatomy of native ads. The whole reason they are so effective is that they aren't intrusive and more so come off as relevant suggestions that fit into the user experience. This is especially important when appealing to early adopters.
When it comes to piquing the interest of early adopters and targeting them with ads, the last thing they are interested in is an ad that the mass market is being shown. No, they need something that's going to make them feel like they've found your product before anyone else.
You can place ads on niche forums. You can write ads that look like sponsored content. You can build ads that blend in on a website frequented by your target audience. Use them the right way, and native ads will turn leads into customers, and customers into advocates and promoters.